Leong Vai Tac will be the newest Mota-Engil board member nominated by China Communications Construction Co (CCCC).
According to the proposal for next month´s annual general meeting, presented by Mota Gestão e Participações, Mota-Engil will increase the number of members of the board of directors from the current 14 to 15.
CCCC, which last year bought 32.41% of the Portuguese infrastructure group, will present at the May 6 meeting the appointment of Leong Vai Tac for the 2021-2023 term.
Leong Vai Tac is Former Secretary of Economy & Finance of the Macau Special Administrative Region (MSAR). He was considered one of the main contenders for MSAR chief executive.
After the Chinese group joined the Portuguese construction company, the group's board of directors was reduced from 20 to 14. Of the eight managers who were on the executive committee then, there are now only five, of which two are appointed by CCCC, one of whom took over as CFO.
At that time, the vice-presidency of the group led by António Mota was taken over by Wang Jingchun, the head of CCCC's international business.
Other articles
Angola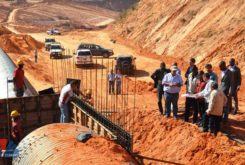 31 May 2023
African Development Bank to manage in Angola USD 50 million credit facility provided by China