Timor-Leste's revised Law on Petroleum Activities has just been published. It amends 15-year old legislation regulating an economic activity that is the country´s main source of income. The awarding of exploration under a new licensing round is expected.
The document, provided by Legis-PALOP+TL to CL Brief, revises rules on State participation in oil operations, namely with regard to the repayment of financing of contractors in the case of State participation in oil operations.
The maximum limit for repayment of financing of contractors remains at 20%, but from now on it will only apply to oil operations conducted after the termination of the Treaty between Timor-Leste and Australia Establishing the respective Maritime Boundaries in the Timor Sea (Timor Sea Treaty), if the respective Contractors expressly agree.
The Timor Sea Treaty has a permanent character and is not subject to a unilateral right to denounce, withdraw or suspend and it can only be changed by agreement between Timor-Leste and Australia and through express provision in that sense.
Also according to the reviewed legislation, projects or proposals for liquefying natural gas, processing or additional treatment of oil after the field's export point are not considered as petroleum operations.
These operations require prior agreement or express licensing under the legislation applicable to the Downstream Sector (Law no. 1/2012, of 1 February), as well as the approval of any additional legislation necessary for the implementation of said projects.
According to Legis-PALOP+TL, under the new legislation if a contractor, or the person who has been granted prospecting authorization, makes an oil discovery in the area covered by the contract or authorization, he must notify in writing, and within 24 hours, the Ministry of Petroleum and Minerals (MPM), providing all information related to the discovery that may be required by the MPM.
Failure to comply with this obligation constitutes a serious breach of the contractor's obligations, which may result in the termination of the Petroleum Contract.
In August 2019, Timor-Leste and Australia officially resolved their disputes over maritime borders in the Timor Sea, setting the pathway for the development of the Greater Sunrise offshore gas and condensate fields, and for Carnarvon's Buffalo offshore oil field.
Photo of Australia and Timor-Leste signing a historic treaty, March 2018 | © Macauhub
Other articles
Angola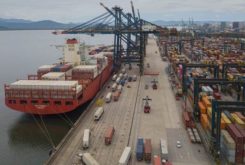 28 November 2023
Sino-Lusophone Trade Dips Again in First Ten Months of 2023
Angola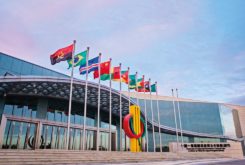 15 November 2023
China-Portuguese-speaking Countries Entrepreneurs Meeting to Return in 2024