With Ho Iat Seng set to become the new Macao Chief Executive, businessman Kevin Ho (no relation) is taking up a seat in the National People's congress (NPC), the parliament of the People's Republic of China. But, while Kevin Ho's political profile rises, along with his real estate investments, his media group in Portugal continues to struggle.
Kevin Ho, the chairman of KNJ Investment Limited, a company that owns 30 per cent of the capital of Global Media Group in Portugal, has become the "most prominent Macao businessman" in relations with the Portuguese-speaking countries within the NPC, according to a close source.
In his first known statement, Ho told Global Media in late June that his goal was "the development of Macao with a view to the successful participation of the Special Administrative Region in national projects, notably in the Guangdong–Hong Kong–Macao Greater Bay Area."
His seat was previously held by Ho Iat Seng – former president of the Macao Legislative Assembly – who announced his resignation from the NPC in April of this year to enable his run for Chief Executive. After the NPC Standing Committee accepted the resignation of Ho Iat Seng at the end of April, the replacement designation process was opened, and ended in late June.
Kevin Ho, nephew of former Chief Executive Edmund Ho Hau Wah, had been the 13th most voted candidate in the December 2017 election to elect the 12 NPC Macao seats, thus becoming the first alternate from Macao. The businessman is now one of 2,980 deputies to meet in Beijing at the annual NPC session, usually held during the first half of March.
Global Media, of which Ho is vice chairman, counts Portuguese newspapers Diário de Notícias and Jornal de Notícias, Macao newspaper Plataforma and radio TSF in Portugal among its holdings. Like other media groups in Portugal, it has been struggling for a while due to a decline in readership and advertising revenue. The group's financial situation had been so dire, for so long, that many in the media business circles in Portugal questioned why Ho would choose to invest in Global Media at a time when most media groups – some with profitable TV operations, unlike Global Media – are looking for partners.
KNJ Investment's capital investment, officially worth EUR15 million (US$16.45 million), was seen as a third lifeline, after creditor banks converting the group's debt into shares and the entry of Angolan businessman António Mosquito in 2013.
With Ho's entry, both Mosquito and another major shareholder – Luís Montez, son-in-law of former Portuguese President Cavaco Silva – left the capital structure, transferring 30 per cent of their combined stake to José Pedro Soeiro. The banks – BCP and Novo Banco – reduced their stakes from 15 to 10 per cent each. Portuguese businessman Joaquim Oliveira, who bought the group in 2005 from Portugal Telecom, with financing from BCP and Novo Banco, is now the third biggest shareholder, dropping from 27.5 to a little over 19 per cent of the capital.
Despite the various restructurings, which involved a layoff of 150 people five years ago, the group's losses have mounted, and in the 2016/17 biennium the loss was of around EUR9 million (US$9.87 million). According to multiple media reports in Portugal, the situation worsened in 2018.
According to a source close to Kevin Ho, further restructuring is inevitable, to balance accounts. Ho himself has admitted as much, saying that the process is "ongoing" and that even if people are fired, "maybe more will be hired."
Afonso Camões, administrator of Global Media, recently told trade union delegates that a restructuring must be completed by September, otherwise the group faces "collapse," according to a report from weekly Expresso. The workers' representatives were told that there is no financial capacity for amicable terminations, so collective redundancies are the sole solution. A figure of 200 redundancies, a third of the total workforce, was mentioned by Camões, according to the same source. Of that total, 60 belong to printing company Naveprinter, which the group is trying to sell.
Signs of lack of liquidity have been emerging in the group, with delay of payment to suppliers, and to workers, at the end of 2018 and again in June.
Financially, the group has been kept afloat by capital injections, more recently from the sale of its real estate. According to reports in the Portuguese press, Global Media netted EUR9.5 million (US$10.42 million) in March 2018 with the sale of its historic headquarters of Jornal de Notícias in Porto, Portugal's second city. The buyer was Macao company Authentic Empathy, managed by KNJ executives Lei Ka Kei and David Siu. Both are also managers of Burgosublime, whose parent company is the Portuguese branch of Kevin Ho's KNJ.
According to the sale deed, recently quoted in weekly Sábado, JN's historic newsroom, one of Porto's tallest buildings at 17 floors, is to be "resold." Global Media's staff structure will now move to a building that the group acquired on Rua de Latino Coelho, also in Porto. The change is expected to happen in the last quarter of the year.
This was the second major sale of real estate assets by Global Media. In 2018, the group sold the historic building of Diário de Notícias in Lisbon, for EUR20 million (US$21.93 million), to be transformed into a residential building with 34 apartments spread over five floors.
In May of this year, Macao Chief Executive Fernando Chui Sai On ended his final visit to Portugal with a presentation on Kevin Ho's multiple real estate investments in the country.
In the city of Porto, these include a five-star Marriott hotel in the former Jornal de Noticias headquarters and Torre Miramar, a residential project in the high-end Foz do Douro area. Both projects, a combined investment of around EUR70 million (US$76.77 million), are awaiting approval by the Porto City Council.
Ho also detailed the project for a business incubation space in Porto, in partnership with the Macao Chamber of Commerce (ACM), contemplated in a memorandum of understanding signed in 2018. With the support of town hall, an old warehouse will be turned into a business incubation centre. Partnering with a similar centre in Guangzhou, it will work to facilitate articulation between companies in the two locations.
Other articles
China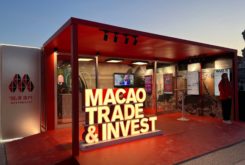 22 April 2023
Macao-Portugal Investment and Tourism Conference results in 11 cooperation agreements
China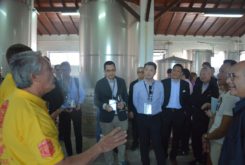 21 April 2023
Top Portuguese companies visited by high level Macao delegation