The Government of Timor-Leste and the Japanese cooperation agency JICA signed a cooperation agreement for the refurbishment project of Presidente Nicolau Lobato International Airport, in Dili.
Japanese support, worth USD 37.5 million is earmarked for the development of the main building of the passenger terminal, and the water and sewage systems, said Finance Minister Rui Gomes.
"With the signing of this agreement, JICA joins the Government of Timor-Leste, the Asian Development Bank and Australia for a transformation project for Timor-Leste. A project that will support a fundamental, systemic and sustainable change in the country, and that carries the potential for a large-scale impact in the area of transportation", said the minister.
Chinese-built Tibar Bay Deepwater Port in Timor-Leste officially opens
"This kind of hybrid public-private partnership approach to the project is crucial and is indeed an auspicious start for an airport that is destined to handle thousands of passengers to and from other airports around the world every year," Minister Rui Gomes said.
The Government decided to follow this approach "given the nature of the financing mechanism that involves multiple sources of financing, such as loans, grants and funds from the State Budget for the development of the airport's various facilities", said the minister.
The signing of the agreement, by Rui Gomes and the head of JICA in Timor-Leste, Ito Mimpei, represents the last of the set of support that Timor-Leste will have for the requalification of the capital's airport, a project that should be officially launched in March.
For the first phase of the project, Timor-Leste signed a loan of USD 135 million from the Asian Development Bank to upgrade the runway, taxiways, traffic control tower and aircraft lighting system.
In December, the Timorese Government signed a financing agreement with Australia, in the global amount of USD 73.4 million, for the project.
Finally, Timor-Leste will inject USD 17.5 million to co-finance some activities, including compensation to families affected by the project, consultancy services and demolition works.
ASEAN agrees in principle to admit Timor-Leste as 11th member 
Rui Gomes said that the upgrade is particularly timely in anticipation of Timor-Leste joining the Association of Southeast Asian Nations (ASEAN).
"The airport, together with the Port of Tibar and the submarine cable are, in fact, investments in the strategic area of connectivity for the service economy of our future", said the minister.
Other articles
China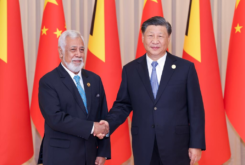 25 September 2023
China and Timor-Leste Elevate Bilateral Relations to Comprehensive Strategic Partnership
China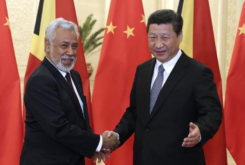 21 September 2023
Timorese Government Approves Agreements with China