Cabo Verde is expected to grow 5.8% this year, more than previously forecast and above the average for sub-Saharan Africa, according to the International Monetary Fund (IMF), which also improved its outlook for Brazil, while worsening for Portugal and Angola.
According to the World Economic Outlook report, Brazil, the largest Portuguese-speaking economy, is expected to recover from a 4.1% drop last year, growing 3.7% this year, better than previously forecast.
However, the Washington-based fund warns that the prospects for the entire Latin American region "continue to depend on the direction the pandemic takes" and that most of these countries, including Brazil, "have not guaranteed enough vaccines to cover their population ".
Globally, in 2021, the IMF anticipates "a slight recovery at different speeds", with an average growth of 6%.
Regarding the Portuguese economy, the IMF cut its growth forecast in 2021 to 3.9%, instead of the 6.5% increase in GDP previously forecast, anticipating for 2022 a 4.8% growth in economic activity.
As the 2020 recession was less deep than expected by the IMF – Portugal fell 7.6%, better than the 10% fall previously forecast – the level of economic activity is about the same.
Among the Portuguese-speaking African countries, Cabo Verde's economic recovery will be faster than the 4% previously forecast for this year, and the economy should continue to accelerate, to 6% in 2022, according to the IMF report.
Heavily dependent on tourism, the Cabo Verdean economy suffered a strong impact with the covid-19 pandemic, having fallen by 14% last year.
The IMF also revised its forecasts for Equatorial Guinea upward, now expecting a growth of 4%, 1.8 percentage points above the previous forecast.
Mozambique is expected to grow 2.1% this year, as previously forecast, and 4.7% next year.
The same for Guinea-Bissau and São Tomé and Príncipe also remain, pointing to a growth of 3% this year.
The Fund revised its growth forecast for sub-Saharan Africa slightly upward, expecting a growth of 3.4% this year and 4% in 2022, up from the 3.2% forecast in the January update.
"The pandemic continues to exert a heavy burden in sub-Saharan Africa, especially, for example, for Ghana, Kenya, Nigeria and South Africa", reads in the Fund's main report on the world economy.
The report warns that tourism-dependent economies are likely to be the most affected.
Angola is expected to recover from last year's 4% recession and grow 0.4% this year – a downward revision from the 3.2% previously forecast – and 2.4% in 2022, below the region's average.
Regarding the gross public debt, Angola should see the ratio to GDP decrease from 127.1% to 110.7% this year, reaching 99.6% in 2022.
Mozambique, in the opposite direction, is expected to see the ratio grow from 122.2% in 2020 to 125.3% this year and 126.4% in 2022.
Other articles
Angola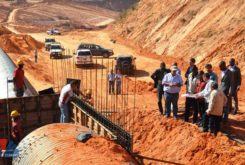 31 May 2023
African Development Bank to manage in Angola USD 50 million credit facility provided by China
Angola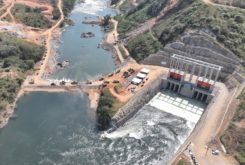 25 May 2023
Angola's 'Three Gorges' Hydro Dam Begins Main Construction Phase