Marcelo Motta, Huawei's director of cybersecurity and solutions, warns that Brazil could suffer "years of delay" in deploying a 5G telecoms network and higher costs if it succumbs to mounting U.S. pressure to snub the Chinese equipment supplier.
The United States is already discussing with the Brazilian government and companies the financing for the purchase of 5G network infrastructure from Ericsson and Nokia, to prevent Chinese companies like Huawei from supplying equipment to Brazilian telecoms, the American ambassador to Brazil, Todd Chapman, has said.
Brazil's President Jair Bolsonaro, a close ally of US President Donald Trump, said last month that 5G deployment would have to meet national sovereignty, information and data security requirements.
Speaking to Reuters this week, Marcelo Motta, Huawei's director of cybersecurity and solutions, said that curtailing Huawei's role "will only delay 5G deployment in Brazil and ultimately impact prices for carriers, regional internet service providers and customers,"
"In places where there have been restrictions on Huawei we have seen prices rise two to five times, often making business unfeasible for operators," Motta said.
He noted that Brazil already faced the challenge of expanding its existing infrastructure. Changing the supplier would require carriers to replace equipment already installed instead of simply upgrading the existing ones.
"To make that change would be like stirring up a hornets' nest," the executive said, stressing that U.S. accusations that Huawei's gear could be vulnerable to Chinese eavesdropping are unfounded.
The company has successfully conducted 5G tests with all of Brazil's major carriers – Telefonica Brasil SA, TIM Participacoes SA, America Movil's Claro and Oi SA – and is helping them modernize their infrastructure ahead of a long-awaited 5G spectrum auction.
"We have a solution prepared to primarily use software to bring 5G to Brazil (in existing frequencies)," Motta said. "Once the government brings the new frequencies we can use small extensions of hardware too."
Huawei, which has invested around $4 billion in 5G between 2009 and 2019 worldwide, plans to manufacture the new technology at one of its two production sites in Brazil.
The company has seen some of its operating costs increase amid the coronavirus pandemic, as air transport expenses rose with fewer flights, according to Motta, who added the issue was "not critical yet."
Coronavirus-related lockdowns have also boosted demand for Huawei's products and services as Brazilian network traffic grew about 50%, he said.
In an interview with Brazilian newspaper Folha de São Paulo last month, the US ambassador to Brazil said that US financing to non-Chinese suppliers in 5G rollout is in the interest of the US "national security".
Photo: Huawei Brazil event (Huawei Cloud)
Other articles
Brazil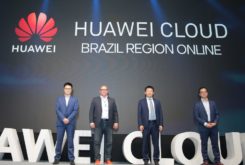 23 September 2020
Huawei´s Fortunes in Brazil 5G Auction Influenced by U.S. Election
Brazil
21 September 2020
China Offers Brazil "New Highland" of Scientific and Innovation Cooperation, Including 5G