Huawei is launching a nationwide scholarship program in Portugal, in partnership with Associação DNS.PT (.PT), which will include 50 higher education students in Engineering and Technology.
The technology company plans to invest 250,000 euros in scholarships in the first year, to be delivered by .PT to selected candidates "of outstanding merit both academically and personally", according to the Chinese tech company. The promoters intend to allocate half of the scholarships to female students.
According to Tony Li, CEO of Huawei Portugal, "the creation of this program will train a new generation of national talents with technological skills that meet the country's ambitions for digital transition".
In order to promote the launch of programs to support talent in Portugal, Huawei has been working with several local partners, including the INCoDe.2030 initiative and the Committee for Citizenship and Equality, Portugal Digital and the Secretary of State for Citizenship and Equality.
The President of Associação DNS.PT and General Coordinator of the INCoDe.2030 program, Luísa Ribeiro Lopes, said that Huawei's challenge to launch this program together was met with great interest, "not only because of the need to train talent in the areas of technology, but also because the purpose of the initiative is also to invoke and enhance gender equality in the sector and increase the participation of women and girls in the digital".
Throughout its 17 years of activity in Portugal, Huawei has launched several initiatives and investments in human resources, such as Smart Bus, Seeds for the Future, ICT Academy, Summer School for Female Leadership in Digital Age, or, more recently, the 5G laboratory and Artificial Intelligence.
Other articles
Angola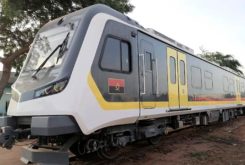 06 October 2022
China CRRC Corporation delivers three new trains to Angola