Guinea-Bissau will increase its engagement in China's Belt and Road Initiative (BRI), under a new agreement signed by both countries.
Speaking at the signing cerimony in Bissau,  the head of Guinean diplomacy, Suzi Barbosa (pictured above), identified partnership opportunities between the African country and Chinese companies in various areas, namely in fishing, tourism, agriculture, maritime transport, renewable energies, trade, among other areas.
"China is a great partner, above all, a builder of peace and a great contributor to world development", said Suzi Barbosa, wishing that Guinea-Bissau will continue to benefit from the partnership "with this great country".
China Leaving 'Mark' in Guinea-Bissau Infrastructure, Government Says
On behalf of China, the bilateral memorandum of understanding to pursue and materialize goals under the BRI framework was signed by Chinese ambassador in Bissau, Guo Ce.
The head of Guinean diplomacy emphasized that Guinea-Bissau understands the importance of the initiative, reaffirmed the country's willingness to continue cooperating with China and also praised its policies in relation to the world.
The Guinean government official stressed that relations between the two countries are currently experiencing "an energetic dynamics", the result of the action taken by the President of Guinea-Bissau, Umaro Sissoco Embaló.
Suzi Barbosa praised the fact that the "great majority" of the African country's public infrastructure was built by Chinese cooperation, highlighting the palaces of Government, Justice, National People's Assembly (parliament), the 24 de Setembro national stadium, and the building of the Freedom Fighters.
The Guinean minister also pointed out the works to rehabilitate the Presidential Palace and the project to build the first motorway in Guinea-Bissau, stretching 8.2 kilometres, which will link the Osvaldo Vieira international airport, in Bissau, to Safim.
Other articles
Angola
09 December 2021
China-Africa trade in goods rises 27.4%
China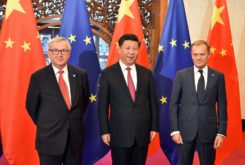 08 December 2021
Brussels and European capitals face 'reality of interacting with a more assertive China'