Five cooperation agreements between China and Timor-Leste are to be signed during the visit of the Chinese Minister of Foreign Affairs to Dili, Friday and Saturday.
During Wang Yi´s visit, China is set to sign an air services agreement with Timor-Leste and a cooperation agreement in areas such as agriculture, water and sanitation, the Timorese Foreign Minister, Adaljiza Magno, told Lusa.
"An agreement is also planned to send Chinese medical teams, an exchange of letters on the second phase of the feasibility study for the construction of the friendship hospital and an agreement to support the radio and television sector," Magno explained.
China aiming at 'comprehensive agreement' with Timor-Leste and South Pacific nations
Wang Yi is scheduled to meet with his Timorese counterpart and also with the President, José Ramos-Horta, and with the Prime Minister, Taur Matan Ruak.
Meetings are also planned with the former President and current leader of the National Congress for Timorese Reconstruction (CNRT), Xanana Gusmão, and with the former Prime Minister and current Secretary General of the Independent East Timor Revolutionary Front (FRETILIN), Mari Alkatiri.
Wang Yi's visit to Timor-Leste is part of a trip to other countries in the region, which began last week in the Solomon Islands.
Xi Jinping and Li Keqiang vow to support Timor-Leste´s development
According to the Associated Press (AP) news agency, Wang Yi will seek the support of ten small Pacific nations for a comprehensive agreement, in various aspects, from security policy to fishing rights, in what could constitute a change in the game of influences in the region.
Beijing also referred to the possibility of establishing a free trade area with Pacific Rim nations.
During the 10-day trip, Wang plans to visit Kiribati, Samoa, Fiji, Tonga, Vanuatu and Papua New Guinea.
Other articles
China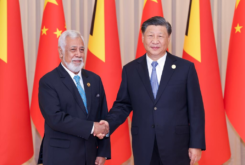 25 September 2023
China and Timor-Leste Elevate Bilateral Relations to Comprehensive Strategic Partnership
China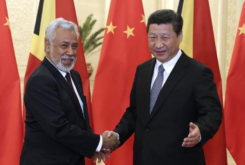 21 September 2023
Timorese Government Approves Agreements with China