Italian Energy Group Eni and Korea Gas Corporation signed a Memorandum of Understanding (MoU) to enlarge existing cooperation, after their "successful" joint-venture in LNG development in Mozambique.
According to a statement by both companies, the MoU aims to "identify specific cooperation opportunities in different areas such as exploration and production projects, LNG projects, downstream and infrastructure projects and in particular circular economy and low-carbon energy projects".
"The two companies have been cooperating in Exploration and Production business over the past decade in Africa, Middle East, South-East Asia and Mediterranean. In particular, the Mozambique Area 4 project and the Iraq Zubair project are representative example of success cooperative relationship between two companies", it adds.
Area 4 is operated by Mozambique Rovuma Venture S.p.A. (MRV), an incorporated joint venture owned by Eni, ExxonMobil and CNPC, which holds a 70 percent interest in the Area 4 exploration and production concession contract. In addition to MRV, Galp, KOGAS and Empresa Nacional de Hidrocarbonetos E.P. each hold a 10 percent interest in Area 4. Eni is leading the construction and operation of the floating liquefied natural gas facility on behalf of MRV.
"By signing this MoU with Eni, we shared the strong willingness of both companies to lead the era of low-carbon and eco-friendly energy. Our strong relationship can settle the basis for a new business with the aim of the second Mozambique Area 4 and Iraq Zubair project, which represents the new energy era" said Hee-bong Chae, CEO of Korea Gas Corporation.
Claudio Descalzi, CEO of Eni said: "As Eni wants to play a decisive role in the process of energy transition towards a low-carbon future, this collaboration is in line with the direction we want to follow to ensure sustainable growth. This MoU fits our new culture based on integration, efficiency and a constant focus on technological innovation and research, which has allowed Eni to enhance the assets in a different way."
Samsung Heavy Industry is moving ahead in South Korea with the construction of a floating platform (FLNG) for the Area 4 joint-venture, led by Eni and which include´s China National Oil and Gas Exploration and Development Company, a subsidiary of CNPC. In spite of the current restrictions due to the Covid-19 pandemic, delivery is still scheduled for 2022.
Other articles
Mozambique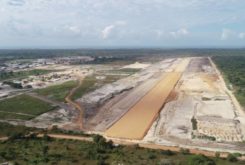 06 July 2020
Total and Mitsui Complete 15.8 billion Financing for Mozambique LNG Project – Government
China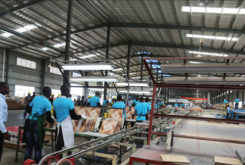 06 July 2020
China´s Keda Industrial to build a ceramic factory in Mozambique