Energy China International has committed to investing USD 10 billion in Brazil, according to the Brazilian Ministry of Mines and Energy.
Investment will be directed to the areas of renewable energy generation and green hydrogen production, said the Ministry after minister Alexandre Silveira met with the president of the Chinese State-owned electric company,
The Ministry did not disclose the timing of the investments and whether they would occur through "greenfield" projects or through acquisitions, a common business strategy among Chinese companies that already operate in the country.
"Far-reaching impacts" on China-Brazil strategic partnership from Lula visit
Silveira stated that he has been meeting with major international investors in renewable energy and demonstrating the Lula government's focus on energy transition.
"We are working to strengthen regulatory stability and legal certainty, creating a favorable environment for investments. We are very optimistic about the country's opportunities in the generation of clean energy," said the minister, in a statement.
China is an important investor in the electricity sector in Brazil, with large groups operating throughout the chain.
"Leap forward" in Brazil-China relations with deals signed in 15 areas from agriculture to aeronautics
Among the main Chinese groups already in the country, State Grid has a strong presence in energy transmission and also controls CPFL, which has an important portfolio in distribution.
In the generation segment, SPIC recently closed important agreements to expand its investments in renewable generation and green hydrogen, while CTG Brasil is involved in an IPO.
Other articles
Brazil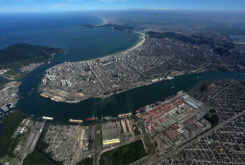 24 May 2023
Artificial intelligence and machine learning resolving China-Brazil "logistics bottlenecks"