EDP Renováveis, whose parent company EDP Portugal has China Three Gorges as its largest shareholder, is in advanced talks to acquire a majority stake in Sunseap Group, a Singaporean renewable energy company.
If the deal goes through, the Southeast Asian company is expected to be valued at USD 1 billion, according to Reuters.
Talks are already at an advanced stage for EDP Renováveis (EDPR) to buy the Sunseap stakes of Thai energy company Banpu, Singapore state investor Temasek Holdings, a fund backed by Temasek and others.
"Although the deal is not yet closed, negotiations are at a very, very advanced stage," said a source with knowledge of the matter, adding the deal "would allow EDPR to achieve a strong presence in solar energy in Asia, which is something it has been studying for a long time."
Banpu holds a stake of almost 49% in Sunseap through a subsidiary, which it has built up since its initial investment in the group four years ago. Details of stakes held by other shareholders have not been made public.
Two of the sources referred to by Reuters said EDPR wants to hold a significant majority in the Singaporean company and is also considering investing at least USD 1 billion in Sunseap's business over the next few years. EDP holds a 75% stake in EDPR.
Other articles
Angola
09 December 2021
China-Africa trade in goods rises 27.4%
China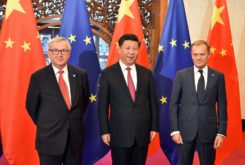 08 December 2021
Brussels and European capitals face 'reality of interacting with a more assertive China'