EDP Renováveis (EDPR), whose parent company EDP Portugal has China Three Gorges as itslargest shareholder, has now reached USD 2.3 billion in asset rotation proceeds.
The company announced the completion of the sale to funds managed by Greencoat Capital of an additional 12% equity stake in a wind portfolio located in the United States, a stake covering two operating wind farms totalling 405 MW.
With this operation, the company explains it "has already secured USD 2.3 billion of asset rotation proceeds within the context of the USD 8 billion Asset Rotation program announced in EDPR Capital Markets Day.
This asset rotation will allow "EDPR to accelerate value creation while recycling capital to reinvest in accretive growth", the Lisbon-based company added.
This transaction also increases the overall asset rotation deal to an 80% equity stake, following the previous 68% announced on July 1 2021.
The renewable energy company recently announced it has successfully carried out a EUR 1.5 billion capital increase to partially bankroll its spending plans. The capital injection is part of a EUR 19 billion investment plan to develop around 20 GW of new renewable energy projects by 2025.
Other articles
Angola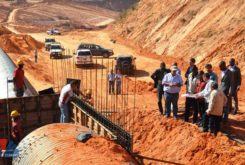 31 May 2023
African Development Bank to manage in Angola USD 50 million credit facility provided by China