EDPR, whose parent company EDP has China Three Gorges as its largest shareholder, has opened its largest renewable complex in the world in Brazil.
In a statement, the renewable company explained that the complex is located in the state of Rio Grande do Norte, consisting of 14 wind farms with a combined installed capacity of 580 megawatts (MW).
In the region, EDPR has more than 800 MW installed and another 300 MW under construction.
Among the parks included in the complex are Monte Verde I-VI (319 MW), Boqueirao I-II (79 MW) and Jerusalem I-VI (181 MW), capable of producing nearly 300 gigawatt hours (GWh) annually, the equivalent of the energy consumed by a city of 1.5 million inhabitants.
During the construction of the parks, EDPR created more than 3,000 jobs, as well as another 80 permanent ones that will be in charge of the operation and maintenance of the complex.
In Brazil, EDPR has already installed 1.1 GW renewables to promote the energy transition of the Latin American giant, where it has a portfolio of solar and wind projects under development of more than 7 GW that will come online in the coming years.
Other articles
Brazil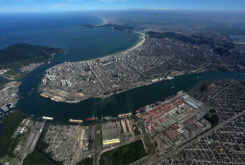 24 May 2023
Artificial intelligence and machine learning resolving China-Brazil "logistics bottlenecks"