EDP, Portuguese energy group whose biggest shareholder is China Three Gorges, is developing 4.3 GW of renewables capacity in Europe, Americas and Asia.
According to a market update by EDP, over the last 12 months, +2.7 GW of wind and solar capacity were added to the portfolio, of which 0.9 GW in Europe, 0.7 GW in APAC, 0.6 GW in North America and 0.6 GW in Brazil.
Wind and Solar installed capacity amounted to 14.5 GW (EBITDA + Equity) in September 2022, +10% or +1.3 GW YoY, including the impact of 6 renewables asset rotation transactions concluded in the last 12 months in 4 European markets and in US, amounting to 1.2 GW of renewable capacity.
Total generation in until september increased 6% YoY, on the back of higher renewables globally and the increase in thermal generation in Iberia, following the drought in Iberia and the increase of electricity exports to France.
Wind and Solar generation increased 14% while Hydro production in Iberia decreased 53% (3.3 TWh below expected), which was partially compensated by higher thermal generation in Iberia, that increased +80% or +5.6 TWh YoY.
In Brazil, until september, the improvement in hydro situation resulted in almost zero coal generation.
EDP to sell USD 500 million hydroelectric project in Peru to China Three Gorges
In the supply business, in Iberia, electricity volume sold increased 9% YoY, reflecting mainly the growth of volumes sold to business clients in Spain. On Gas, volumes sold decreased 9% YoY.
Electricity distributed in 9M22 increased 2% in Portugal and in Brasil. Customers connected increased 1% YoY in Iberia and 3% YoY in Brasil.
Other articles
Brazil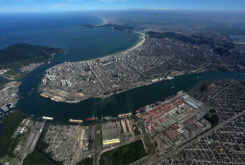 24 May 2023
Artificial intelligence and machine learning resolving China-Brazil "logistics bottlenecks"