Mozambique Rovuma Venture (MRV), a joint venture co-owned by ExxonMobil, Eni and CNPC (China),  is hoping to launch a second liquefied natural gas production (LNG) platform in Mozambique.
"There are opportunities to increase supply in the short term, including the possibility of replicating the success of the Coral Sul project with a new Floating Liquified Natural Gas development similar to the one that began exporting gas from the Rovuma basin earlier this month," said Eni's Director of Natural Resources Operations, Guido Brusco.
Brusco was speaking in Pemba, on the sidelines of the official inauguration of the Coral Sul platform by the Mozambican president, Filipe Nyusi.
Coral Sul floating LNG plant to load first Mozambique gas cargo in second-half 2022
Area 4 is operated by MRV, which holds a 70 per cent stake in the concession contract, and Galp (Portugal), Kogas (South Korea) and Empresa Nacional de Hidrocarbonetos (National Hydrocarbons Company of Mozambique) each have a 10 per cent stake in the consortium.
Coral Sul has been stationed 40 kilometres off the Mozambican coast since the beginning of the year and began exporting LNG earlier this month.
Although the idea of a second platform has already been discussed for about a year, Brusco's announcement highlights the importance and opportunity of the investment.
Eni's Coral Sul FLNG completes journey from South Korea to Mozambique
"What is clear is that we need to act quickly. Everything is in place to achieve this goal: we have reserves, technology, a strong and committed team, a track record of delivery achieved with the Coral Sul platform and government support," Brusco said.
"We will continue to work closely with partners and the government to assess all possible options for further developments."
The Coral Sul platform operated by Italian oil company Eni on behalf of the Area 4 consortium in Mozambique will produce 3.4 million tonnes of liquefied natural gas (LNG) per year for BP, which has bought the production for the next 20 years.
Comment: Total Pullback From Mozambique LNG Delays Exxon/CNPC Project
There are two other larger projects approved for the Rovuma basin, led by TotalEnergies (Area 1) and Exxon/Eni (Area 4), each of which could produce four to five times as much LNG.
The possible onshore liquefaction plants on the Afungi peninsula are waiting for decisions by the oil companies for construction to go ahead, given the insecurity in the region.
Other articles
China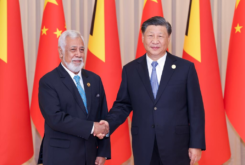 25 September 2023
China and Timor-Leste Elevate Bilateral Relations to Comprehensive Strategic Partnership
China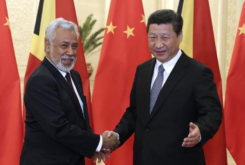 21 September 2023
Timorese Government Approves Agreements with China