Update:
French energy group Total declared "force majeure" on its USD 20 billion liquefied natural gas (LNG) project in Mozambique and confirmed it had withdrawn all staff from the construction site following insurgent attacks last month.
Gas projects in the region are worth USD 60 billion and are aimed at transforming the East African nation's economy. The violence in March has dealt a blow to plans by Total and rival Exxon Mobil, which also has an LNG project in Mozambique, to turn the country into a major LNG producer to rival Australia, Qatar, Russia and the United States.
"Considering the evolution of the security situation … Total confirms the withdrawal of all Mozambique LNG project personnel from the Afungi site (pictured above). This situation leads Total, as operator of Mozambique LNG project, to declare force majeure," the company said on Monday.
Total, which aimed to produce its first cargo from the project in 2024, suspended work on March 27 after the militant attack.
Declaring force majeure implies a weightier suspension and allows Total to cancel contractors.
New Temane Gas Plant to Support Mozambique as 'Regional Energy Hub'
Carlos Zacarias, chairman of the institute that governs Mozambique's energy development, told a news conference that Total would not fulfil contractual obligations while the force majeure was in place.
He added that Total had not abandoned the project.
Comment:
Total´s decision, in line with the withdrawal of staff and ongoing contract renegotiations with contractors and suppliers for the LNG complex, known in the wake of the most recent attacks in Cabo Delgado, puts on hold not only the Area 1 investment, but also Area 4, until security is reestablished in the region.
The announcement comes as Mozambique is meeting its regional partners to discuss how to address the conflict in Cabo Delgado. While Maputo resists foreign military intervention, some countries in the region are pushing for it, considering it the only way to ensure security.
The effects on the LNG exploration project for Area 4, a consortium led by Exxon Mobil, Eni and CNPC, are limited at this stage. But delay is inevitable, as the LNG complex is to be shared by both consortia.
Despite the complex sharing agreement between the two consortia, Area 4 has not yet formalized the final investment decision (FID) and maintains the ability to adapt to the decision that will be taken by Total.
On the other hand, the Coral Sul FLNG floating platform does not depend on the Afungi complex and should be installed at the end of 2021, with production beginning in 2022. This will generate much needed income for the government, but the size of this project is small compared with Area 1 and 4.
With an expected production capacity of 3.4 million tons/ year, the Coral Sul FLNG will produce less than 1/4 of the estimated offshore blocks that would supply the Afungi complex (16 million tons/ year).
Other articles
Angola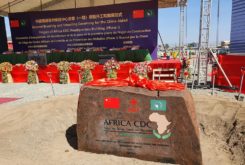 04 May 2021
Sino-African Relations to Recover and 'Remain Strong'
Mozambique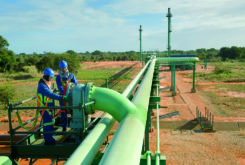 20 April 2021
New Temane Gas Plant to Support Mozambique as 'Regional Energy Hub'