China's MingYang Smart Energy has signed a Memorandum of Understanding (MoU) with Pecém Industrial Complex (CIPP), in the Brazilian state of Ceará, to develop a pilot offshore wind project.
MingYang is also building an offshore wind turbine factory at CIPP in Ceará. The company stated it plans to apply for environmental licenses by the end of the year.
Larry Wang, Vice President of MingYang, said the signing of this MoU is "an important step for the first offshore wind project in Brazil."
The parties announced they are starting the pre-feasibility studies for the pilot wind farm that will be located off the coast of Pecém, as part of the plan to develop an offshore wind complex in Ceará.
"In the next phase, we intend to develop our pilot offshore wind project and build valuable experience in permitting, design, cost, construction and operation for large scale offshore wind projects in the future," Wang added.
The plan is to start building what will be Brazil's first offshore wind project by early 2022.
Mingyang Smart Energy will build an Offshore Wind Farm in the Brazilian state of Ceará, under an agreement with the local Government.
Other articles
Brazil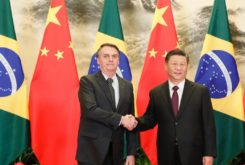 28 June 2022
Brazilian president praises China at BRICS summit