China will hand over soon the new university campus of Cabo Verde´s main university (Uni-CV), where the African country expects to create a new regional science hub.
The new Uni-CV Campus was financed by China, with 45 million euros, which in 2015 also installed in the country a Confucius Institute, to promote Chinese language and culture.
The only public university in Cape Verde has three teaching centers, namely in Praia and Assomada, both in Santiago island, and another in São Vicente island, hosting more than 4,000 students, in professional courses, degrees, specializations, masters and PhDs.
The new 'campus' was designed to accommodate 4,890 students and 476 teachers in 61 classrooms, five auditoriums with a capacity of 150 seats, eight computer rooms, eight reading rooms, 34 laboratories, a multipurpose hall with a capacity of 654 seats, cafeterias, library, dormitories and sports facilities.
With the new facilities, Uni-CV aims to become a hub in the context of West Africa, alongside universities in Senegal.
The hand over of the Uni-CV Campus building to the Government of Cape Verde is scheduled for July 23, according to the Minister of Education, Amadeu Cruz. Located in the Palmarejo Grande area, the new facilities were supposed to be completed in July 2020, with classes starting in October of the same year, but the covid-19 pandemic forced a one year delay.
Other articles
Angola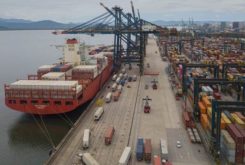 28 November 2023
Sino-Lusophone Trade Dips Again in First Ten Months of 2023
Angola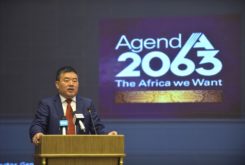 20 November 2023
China and Africa Vow to Bost Cooperation Under Belt and Road Initiative