China Telecom is expanding its internet backbone in Brazil, where its subsidiary CTB, the largest in Latin America and a leading provider of internet, is launching eSurfing cloud services.
The eSurfing Cloud services in São Paulo will allow customers to connect on a global multi-cloud network of more than nine public cloud nodes, 30 proprietary edge cloud nodes, and more than 200 CDN (content delivery network) nodes, the company said.
Brazil is one of the most active cloud markets in Latin America, with high demand for the critical services that connect Latin America to the global market. Cloud adoption in Brazil has increased nearly 40% since 2019 and is expected to grow nearly 19% by 2033.
Brazilian fintech backed by China's Tencent gets USD 150 million loan to expand in Latin America
Through on-demand purchases that aim to simplify the process for more targeted service, the new offering, says CTB, provides businesses with the flexibility of accessing public and private cloud services, combined with the security and control of private cloud.
CTB's eSurfing cloud services enable enterprises in Brazil to take advantage of the latest cloud technologies with the benefit of local support and expertise. With this new offering, CTB says, businesses in Brazil can optimize their cloud environments, reduce costs and improve efficiency, all while maintaining high levels of security and compliance.
China Telecom Americas (CTA) also reported to be developing a major network expansion in Latin America, with plans to develop an IP backbone infrastructure connecting its existing global network to new PoPs in Fortaleza, Brazil; Buenos Aires, Argentina; Santiago, Chile; Lima, Peru; Panama City, Panama; and Mexico City, Mexico, over the next three years.
"Far-reaching impacts" on China-Brazil strategic partnership from Lula visit
"Latin America is an exciting market for our company. Based on the success of our operations in Brazil, we are confident that other key cities in the region will be commercially successful," said Luis Fiallo, CTA Vice President, Latin America.
"Our network expansion plans will give us the foundation to serve customers in the region and around the world. It will also allow us to deliver new technologies such as 5G, Internet of Things (IoT) and smart city technologies that will greatly benefit the region", Fiallo added.
CTA's regional and global presence is well positioned to meet the growing demand for connectivity in Latin America, both in individual markets and globally. Working with local and global providers, CTA has east-west connectivity options in Latin America, in addition to building connections to North America.
"Leap forward" in Brazil-China relations with deals signed in 15 areas from agriculture to aeronautics
In addition, it also takes advantage of existing investments in submarine cables reaching Europe, Africa and Asia.
According to Cisco's Annual Internet Report, the Internet is expected to reach 70% of the Latin American population by 2023. The number of connected devices will also grow from 2.2 per capita in 2018 to 3.1 in 2023.
Other articles
Brazil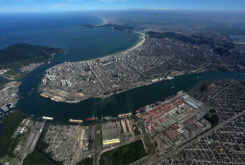 24 May 2023
Artificial intelligence and machine learning resolving China-Brazil "logistics bottlenecks"