China has agreed to immediately resume imports of Brazilian beef, Brazil's agriculture ministry said, considering the decision "a step forward for Brazil".
Sales of Brazilian beef to China were voluntarily halted by Brazilian authorities on February 23 following the discovery of an atypical case of mad cow disease.
The resumption of trade on Thursday comes a day after Brazilian Agriculture Minister Carlos Favaro arrived in Beijing ahead of a trip by President da Silva, commonly known as Lula, that was supposed to start Sunday but was postponed.
Brazil wants review of beef exports health protocol with China
"The Chinese government decided to lift the ban on Brazilian beef" after a meeting between Favaro and Chinese customs chief Yu Jianhua, the Brazilian ministry said in a statement.
Last year, China spent USD 8 billion on Brazilian beef, amounting to almost nine percent of its imports from Latin America's largest economy.
Favaro, who met Yu in Beijing, said the decision was "a step forward for Brazil".
China is already Brazil's largest export market, with bilateral trade surpassing USD 150bn in 2022.
Brazil mainly exports soybean products, iron and its derivatives, oil products and beef to China.
China also overtook the United States as Brazil's top trading partner in 2009, and Brazil is today the largest recipient of Chinese investment in Latin America, driven by spending on high-tension electricity transmission lines and oil extraction.
Other articles
Brazil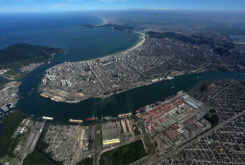 24 May 2023
Artificial intelligence and machine learning resolving China-Brazil "logistics bottlenecks"