China is extending support to Guinea-Bissau's Ministry of Foreign Affairs, while commending the new Government´s "energy".
As part of bilateral cooperation, China delivered 11 vehicles to the Ministry of Foreign Affairs of Guinea-Bissau this week at a ceremony attended by minister of Foreign Affairs, Susy Barbosa.
According to the head of the Guinean diplomacy, cooperation with China "remains very intense" and is supporting the Guinean "governance program", which aims to develop the country.
The Chinese ambassador to Guinea-Bissau, Guo Ce (pictured above, left), said that the donation is another "moment that bears witness to the Sino-Guinean friendship".
He added that the donation is the "result of the effort" of the current Guinea-Bissau Foreign Affairs minister, which gave "more energy " to diplomacy.
Other articles
China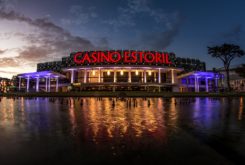 03 February 2023
Ho family´s Estoril-Sol ensures concession of casinos in Portugal for 15 years