Freight trains between China and Europe reached 11,343 trips in the first nine months of 2021, up 29 percent year-on-year, China Railway announced.
The increase reached 37 percent in transported cargo, at 1.903 million Twenty-foot Equivalent Units (TEUs), according to the same source.
China-Europe freight trains have become a component of cross-border logistics in ensuring the smooth operation of the supply chain in Central Europe and Central Asia, as well as providing one more option for enterprises suffering from the soaring prices of international sea and air freight, experts told Global Times.
According to China's top economic planner, in September, China-Europe freight trains reached 1,291 trips, transporting 127,000 TEUs, representing a year-on-year increase of 9 percent and 16 percent, respectively. The data also showed that September marks the 17th consecutive month that bilateral freight trains surpass 1,000 trips.
At present, the number of China-Europe freight trains in Ji'nan city, East China's Shandong Province, approached the total number seen last year.
On October 29, the first "Jinbo" China-Europe freight train arrived in Shanghai, transporting exhibits to be displayed at the China International Import Expo (CIIE) from Hamburg, Germany with a total of 35 containers.
Other articles
Angola
09 December 2021
China-Africa trade in goods rises 27.4%
China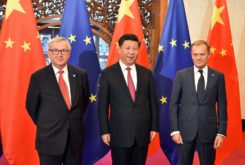 08 December 2021
Brussels and European capitals face 'reality of interacting with a more assertive China'