Mozambique is eyeing Chinese support for new large scale infrastructure projects, as China stands ready to actively participate in cooperation with the African country under the Belt and Road Initiative (BRI).
Senior Chinese diplomat Yang Jiechi, a member of the Political Bureau of the Communist Party of China (CPC) Central Committee and director of the Office of the Foreign Affairs Commission of the CPC Central Committee, met with Mozambican President Filipe Nyusi (pictured above, left) in Maputo, the capital of Mozambique.
Yang said China is ready to promote cooperation with Mozambique in fields such as infrastructure construction, agriculture and energy to achieve more outcomes.
Mphanda Nkuwa dam project in Mozambique attracts two Chinese and two Japanese groups
Yang said China is willing to engage in all-round exchanges with Mozambique, further deepen their political mutual trust, and support each other on issues involving their respective core interests and major concerns.
The Mozambican president said his country is willing to deepen mutually beneficial cooperation with China under the BRI. Proposed by China in 2013, the BRI comprises the Silk Road Economic Belt and the 21st Century Maritime Silk Road, and aims to build trade and infrastructure networks connecting Asia with Europe and Africa along and beyond the ancient Silk Road routes.
Nyusi congratulated the 101st anniversary of the founding of the CPC and wished a success for the 20th CPC National Congress later this year. He hailed the traditional friendship and fruitful cooperation between the two countries and their ruling parties, describing them as "reliable good partners."
Sinopec, CNOOC, CNPC and Petro China International bid for Mozambique oil and gas
The Mozambican president thanked China for supporting Mozambique's economic and social development and its fight against COVID-19. Mozambique is firmly committed to developing friendship with China and firmly adheres to the one-China policy, he said.
Mozambique is ready to enhance communication and coordination with China in international affairs and jointly address the profound changes in the international situation and various challenges, Nyusi added.
At the end of a four-nation tour, which included Pakistan, the United Arab Emirates and Zimbabwe, Yang also met with Mozambican Minister of Foreign Affairs and Cooperation Veronica Macamo.
"Rapid increases" in cultivated areas in Angola and Mozambique
Macamo said the Mozambican President told Yang "of the need to support the rehabilitation of National Road No. 1", Mozambique´s main highway, as well as to build new parliament headquarters.
The Assembly of the Republic intends to build a 'parliamentary city' on the north bank of Maputo Bay, with a new hemicycle and apartments for the MPs, most of whom live in rented houses, when they travel to the country's capital for plenary sessions.
The Mozambican authorities estimate at USD 750 million he amount needed for the rehabilitation and maintenance of National Road No. 1. In recent years, China has financed major public infrastructure in Mozambique, such as the Maputo Circular Road, Zimpeto National Stadium and a new Maputo International Airport.
Other articles
China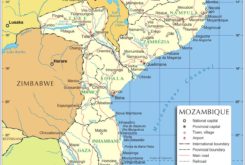 07 December 2022
Mozambique graphite attracts Chinese companies
Brazil
05 December 2022
Brazil Exports to China Jump 35.6% and lead to record trade surplus