Angolan crude is being  offered for export at lower-than-usual prices, a signal that top consumer China's oil demand may struggle to rebound in the coming months.
According to Bloomberg data, Sonangol, Angola's state-owned oil company, offered to sell a cargo of Dalia crude for June loading at a discount of 50 cents a barrel to the Dated Brent oil benchmark on Tuesday. That's down from a premium of as much as USD 1.60 a barrel above the benchmark being offered for similar supplies in May.
Angola's Girassol grade was also offered on last week at USD 1.10 a barrel above Dated Brent, according to the list, less than one-third of levels being asked for last month.
BP and China´s Sinopec Start Production at Angola´s Block 18 Platina oilfield
Both varieties of crude are regularly shipped to China's state-owned oil refiners as well as independently-owned plants. Final deal prices are likely to be even lower, the traders said, because of China's recent spate of weak buying.
West Africa's crude exports to China are set to dip this month, according to Bloomberg estimates compiled from a survey of traders, loading programs and vessel-tracking data. China purchased about three-quarters of Angola's oil in April, down from almost 90% a month earlier, the survey showed.
Angola also faces stiffer competition in Europe, another of its main markets, as supplies return from Libya and the CPC export terminal on Russia's Black Sea coast, the traders said. Meanwhile, flows of U.S. benchmark WTI crude to the continent are also on the increase, they added.
BP and China´s Sinopec Resume Oil Drilling in Angola´s Block 18
China's energy demand has been hit by lockdowns aimed at curbing the spread of Covid-19. While President Xi Jinping has made a commitment to bolster the nation's economy, its oil inventories have continued to swell and supplies offered at lower prices indicate that recent weaker demand from the world's biggest crude importer may persist into June, traders specializing in West Africa grades said.
Other articles
Angola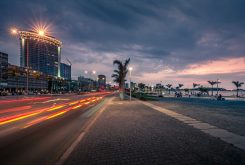 18 May 2022
Legal Update/ Angola: Non-Banking Financial Institutions