Brazilian President Luiz Inácio Lula da Silva will travel to China between March 26 and 31 on a state visit in which he will be accompanied by a record delegation of 240 businessmen.
The official acts, which will take place on the 28th, include a meeting between Lula and his Chinese counterpart, Xi Jinping; and a day later a business forum will be held in which between 400 and 500 businessmen will participate, nearly half of them Brazilians.
The sector with the greatest weight will be agriculture, with 90 Brazilian companies represented, according to the Foreign Ministry of the South American country, which is a major exporter of food for the Chinese market.
"Brazil aspires to have a more diversified trade relationship with China," said the secretary for Asia and the Pacific of the Brazilian Foreign Ministry, Eduardo Paes Saboia, at a press conference in which he gave details of Lula's trip.
In the meeting with Xi, the signing of about 20 agreements is expected in the commercial area, phytosanitary protocols, technology, development, energy transition and other areas of collaboration within the framework of the strategic association that both countries have maintained since 2002.
Since 2009, China has been Brazil's main supplier and the Asian country has also become the main customer for Brazilian products, although the South American country's exports are highly concentrated in the agricultural sector.
Lula's return to Brazilian presidency expected to energize China-Brazil relations
After Beijing, Lula will travel to Shanghai on the 30th, where he will visit the headquarters of the BRICS development bank, a block where Brazil partners with Russia, India, China and South Africa.
During the visit, Lula will propose former Brazilian President Dilma Rousseff as the new head of the development bank, which is currently chaired by Brazilian diplomat Marcos Troyjo, who took office in 2020 and whose term ends in 2025.
Other articles
Brazil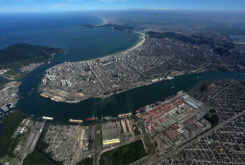 24 May 2023
Artificial intelligence and machine learning resolving China-Brazil "logistics bottlenecks"