Brazil, Timor and Cabo Verde will be among the fastest growing economies in 2021, recovering from sharp drops in activity last year because of the Covid-19 pandemic, according to the World Bank.
In its new Global Economic Prospects report, the World Bank says that in Brazil the recovery in private consumption and investment in the second half of 2020 "is expected to continue in early 2021, supported by improving confidence and benign credit conditions, pushing growth to 3 percent in 2021".
"The rebound is expected to be uneven across sectors; industry and agriculture are expanding more rapidly than the services sector due to a lingering risk aversion among consumers affecting travel, tourism, and restaurants, in particular", the report adds.
Momentum is expected to slow as the year proceeds, in part due to the withdrawal of monetary and fiscal stimulus, bringing growth down to 2.5 percent in 2022. Last year, Brazil's economy is projected to have fallen -4.5%.
The World Bank has revised its projection for global economic growth to 4% in 2021, "assuming an initial COVID-19 vaccine rollout becomes widespread throughout the year. A recovery, however, will likely be subdued, unless policy makers move decisively to tame the pandemic and implement investment-enhancing reforms".
According to the report, Timor-Leste should grow 3.1% this year, after a 6.8% recession in 2020. Next year, expected economic growth is 4.2%.
The document stimates that sub-Saharan Africa will grow 2.7% this year and 3.3% in 2022, below the previous forecast, due to the economic consequences of the Covid-19 pandemic in the region, which in 2020 experienced a recession of 3,7%.
The report points out that the countries most affected were oil exporters, including Portuguese-speaking Angola and Equatorial Guinea, and those dependent on tourism, such as Cape Verde or São Tomé and Príncipe, in addition to countries with a high number of  Covid-19 cases, such as South Africa, the country hardest hit in this region.
Angola is expected to grow 0.9% this year, after having experienced the fifth consecutive year of recession in 2020, and Cabo Verde will recover from the 11% drop last year with a 5.5% rebound this year.
Guinea-Bissau, with an expansion of 3% this year and 4% in 2022, also recovers from the 2.4% drop last year, as does Mozambique, which after a slight contraction of 0.8% in 2020, is expected to grow 2.8% this year and of 4% the following year.
The World Bank predicts that São Tomé and Príncipe will recover from the 6.5% drop in 2020 to record a growth of 3% this year and 5.5% in 2022.
Equatorial Guinea had a negative economic growth of 9% last year and should remain in the 'red', with wealth falling 2.8% this year and 1.2% in 2022.
China's economy is expected to expand by 7.9% this year following 2% growth last year. Excluding China, emerging market and developing economies are forecast to expand 3.4% in 2021 after a contraction of 5% in 2020. Among low-income economies, activity is projected to increase 3.3% in 2021, after a contraction of 0.9% in 2020.
Other articles
Angola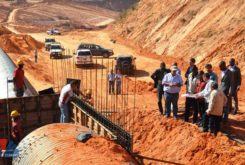 31 May 2023
African Development Bank to manage in Angola USD 50 million credit facility provided by China
Angola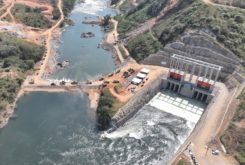 25 May 2023
Angola's 'Three Gorges' Hydro Dam Begins Main Construction Phase