Brazilian authorities are confident that trade with China will become increasingly important, despite a recent drop they consider temporary.
"We do not believe that the drop in exports to China is a matter of changing trends. China has been going through lockdowns, which causes economic activity to slow", said the undersecretary for Intelligence and Foreign Trade Statistics of the Ministry of Economy, Herlon Brandão.
During an update of Secex (Secretariat of Foreign Trade) figures for the trade balance, Brandão said that China will continue to be a major trading partner for Brazil, "with growing importance".
New historic record for trade between Brazil and China in 2021
Shipments of iron ore to China have dropped recently, owing to "lower activity in China", Brandão said.
"GDP growth of only 4.4% is expected this year, which in Chinese terms is low. Lower activity influences imports [by China] both in terms of volume and values", he added.
From January to May, the total volume of products exported from Brazil to China dropped 11.2% compared to the same period last year. In the case of iron ore — the most affected product —, the drop was 7.76%.
Brazilian soy exports should depend less on China, vice president says
Data from Secex shows that iron ore exports from Brazil to China totaled 77.62 million tons in  January-May, which compares with 84.15 million tons in the same period last year.
Considering all exported products, the volume of the first five months of 2022 was 124.92 million tons. In the same period of 2021, the sum was 140.61 million tons.
Secex figures indicate that Brazilian soybean exports totaled 28.74 million tons from January to May. The volume is 28% lower than the 40 million tons recorded in the first five months of 2021.
China's soybean imports from Brazil rise despite higher prices
In the case of soy, according to Brandão, the lower exports are not linked to the lockdowns in China.
"What explains the lower soybean exports is a lower supply from Brazil. Food is always in demand around the world, even more so at a time of crisis and supply bottlenecks, with the war in Ukraine," said the undersecretary.
Other articles
Brazil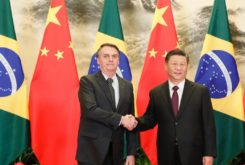 28 June 2022
Brazilian president praises China at BRICS summit