The newly formed Brazil-China parliamentary group will monitor the operation, scheduled to start in 2024, of the Bioceânica Route, linking the Brazilian interior to ports in Chile, accessing the Pacific Ocean.
Brazilian Senator Nelsinho Trad, elected president of the Brazil-China parliamentary group, said that the Bioceânica Route, linking Brazil´s State of Mato Grosso do Sul to ports in Chile, crossing Paraguay and Argentina, will reduce transport costs and travel time for exports to the Chinese market.
This, he told Radio Senado, will allow for integrating and strengthening trade relations with Asia.
Brazilian state of Mato Grosso playing "dominant role in Sino-Brazilian agricultural trade"
The Brazil-China parliamentary group for this legislature, which runs until the beginning of 2027, brings together 27 parliamentarians – 5 MPs and 22 senators. The Chinese embassy in Brasilia said it will work with parliamentarians to strengthen cooperation ties.
Senator Nelsinho Trad said the group will seek to strengthen the relationship between the two countries on the international stage. He pointed out the volume of trade between the two countries and the intention to monitor projects to strengthen the bilateral relationship.
Trad underlined that Brazil and China are both part of the BRICS, a group formed by five large emerging economy nations responsible for Development Bank resources that reach one hundred billion dollars to finance projects in the five countries.
"Far-reaching impacts" on China-Brazil strategic partnership from Lula visit
In the first quarter, 23.4% of Brazilian exports went to China, with pulp, crude oil, soy and iron ore among the main items. China has been, since 2019, Brazil´s main trading partner, with 21.9% of the total goods imported last year.
Brazil imports solar panels, essential to produce clean energy at socially fair prices. The other set of products is linked to e-commerce.
Representing the Chinese ambassador, Minister Jing Hongjun declared support for the parliamentary group.
Brazil open to Chinese investment but not to sell assets, President says
"In addition to the strong economic ties between China and Brazil, on the part of the embassy, I would like to express our willingness to work with the parliamentary group to reinforce this bond of friendship and cooperation, a partnership that aims to bring benefits to both countries", Jin said, quoted by Rádio Senado.
Other articles
Brazil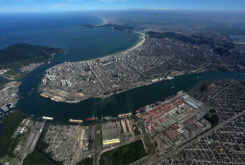 24 May 2023
Artificial intelligence and machine learning resolving China-Brazil "logistics bottlenecks"