Banco Nacional Ultramarino (BNU), part of Portugal´s State-owned Caixa Geral de Depósitos (CGD) group, has pledged to "cooperate vigorously" in the development of China´s 'Belt and Road' and 'Guangdong-Hong Kong-Macau Greater Bay Area' projects.
The pledge was made by Chief Executive Officer Carlos Cid Alvares Tuesday at the Macau Banknote Issuance Agency Contract Exchange Ceremony, presided by the Secretary for Economy and Finance of Macau Special Administrative Region, Lei Wai Nong.
With CGD´s "extensive financial network", Álvares said, BNU "is in a good strategic position to support companies and play its role as a liaison platform between China and Portuguese-speaking countries both at the level of trade and investment flows, and cooperating vigorously with the development of the country's 'One Belt One Road' and 'Guangdong-Hong Kong-Macau Greater Bay Area'".
Along with Bank of China, BNU will continue to serve as the banknote-issuing agent for the Macau Special Administrative Region for the next 10 years. Under these contracts, the two agent banks will have an equal share of the banknotes issuance function and must follow theregulations bound by the law to provide equivalent legal foreign reserves for the banknotes issued.
"BNU will continue to take the initiative to support and cooperate with the Macau SAR Government policy and in joining other Macau sectors, thus contributing actively to the financial, economic and social development of Macau", Álvares said.
Secretary for Economy and Finance, Lei Wai Nong, said the two issuing banks have always been in full cooperation with the Macau Government in collaborating with the government policies, ensuring the stability of the Macao SAR's monetary supply, and fulfilling their agency duties in issuing banknotes.
He said he expected that the two note-issuing banks would continue to "work together on cultivating financial innovation, and promote the development of modern finance in Macau".
Bank of China, said its President, Wang Jiang, aims to promote Macau's integration into the Greater Bay Area, and has cooperated with the Macao SAR government in the development work of Hengqin under the cooperation of Zhuhai and Macau, while fully supporting Macau's development of a modern financial industry.
Other articles
China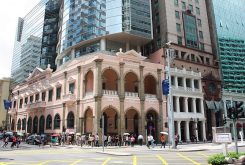 11 August 2022
BNU Macau shows first-half profit of MOP 128 million