Authorities from China and Portugal visited Quinta da Marmeleira wines´ stand at the 5th China International Import Expo, which opened saturday at the National Convention and Exhibition Center (Shanghai).
Marmeleira´s exhibition area was visited, according to the Portuguese winemaker, by Sílvia Inácio, Consul General and Acting Ambassador of Portugal in Shanghai, Luís M.M. Costa, leader of Shanghai International Trade Promotion Bureau, He Jinglin, representative of the National People's Congress, Yu Yusheng, Chairman of Macao International Trade Promotion Bureau, all hosted by businessman Wu Zhiwei, the company´s owner.
"In the food and agricultural products exhibition area of ​​the CIIE, the three series of wines of various varieties on the booth of Marmeleira are favored by exhibitors from all over the world and domestic exhibitors for their quality and taste of southern European wines", the company said in a statement.
Quinta da Marmeleira brings wines from Portugal to China International Import Expo
Marmeleira, the statement adds, is a representative enterprise of Macao's investment in Portugal in response to the Belt and Road initiative and its wines "have been sold in Macau and mainland China, and have been highly praised by many consumers".
The company "has overcome the difficulties caused by the epidemic and actively expanded its sales channels", and its wines are now sold on China Communications Construction Group's large e-commerce platform in the Mainland, on the Jiaojian cloud business platform and the Nanguangtong e-commerce platform.
Its wines are also promoted by luxury hotels such as Staff House Hotel and the company has been featured in CCTV a documentary.
Macau responds to China's call to expand international trade
Xia Siya, Consul General of Portugal in Shanghai, told China News Agency during the event that Portugal has "a lot of high-quality products", and "really wants to open the door to China's markets in different fields, not only in the food industry, alcohol, but also in other fields, such as pharmaceuticals, digital technology, etc.".
The diplomat said that China once again conveyed a very clear message at this CIIE, that is, it hopes to continue to promote opening up and raise a higher level, and at the same time, it needs to introduce the consumption of high-quality goods in China, and this This is where Portugal can come into play. "The CIIE has such a power to put us all on the same dimension to explore new markets together."
Xia Siya mentioned that Portuguese wines are in a very interesting period in the Chinese consumer market. "I have noticed the consumption trend of Chinese consumers between the ages of 18 and 45. Portuguese wines are increasingly appreciated in China, which also shows that Portuguese wines have great potential in the Chinese market."
Portugal-China Trade and Investment to Hit New Records Post-Pandemic
Wu Zhiwei, President of Marmeleira, said that the CIIE shows China's continuous expansion and opening up in the new era, and it is also an important platform for enterprises from all countries to share development opportunities and achieve mutual benefit and win-win results.
As an exhibitor representing Macao, he added, the company will deeply integrate into national strategies such as the Belt and Road Initiative and the construction of the Guangdong-Hong Kong-Macao Greater Bay Area, build a strong brand in Macao, tell the story of China, help the moderately diversified development of Macao's economy, and promote Macao's brands to go global.
At this year's CIIE, 145 countries, regions and international organizations are present, as well as 284 Fortune 500 companies and industry leaders, as well as 39 government trading groups from various provinces and cities, and more than 60 industry trading groups.
Other articles
China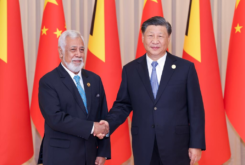 25 September 2023
China and Timor-Leste Elevate Bilateral Relations to Comprehensive Strategic Partnership
China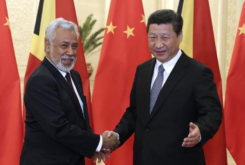 21 September 2023
Timorese Government Approves Agreements with China