Deng Yinqi, head of international business at China Gezhouba Group, guaranteed Angolan President João Lourenço that the Caculo Cabaça dam, in Cambambe, Cuanza-Norte will be completed on schedule in October 2026.
They also discussed the recovery of the Luachimo dam, two of whose four turbines are expected to start operating by the end of this month supplying electricity to the city of Dundo.
The Minister of Energy and Water, João Baptista Borges said that the first turbine in Caculo Cabaça, with a capacity of 500 megawatts, was also guaranteed to go into operation.
China Gezhouba Group Company reaches deal with workers at Angolan hydroelectric project of Caculo Cabaça
Although projects of this size are highly complex, João Baptista Borges said there was no doubt about the completion of the Caculo Cabaça dam within the expected time frame, given the construction company's experience in assembling projects of this nature.
"They are the main builders of the biggest hydroelectric plant in the world, which is the Three Gorges, in China," he stressed.
The Minister said that the contract signed with the contractor, valued at around US$4.5 billion, includes, in addition to the construction of the dam, all the transport links, totalling more than 1,300 kilometres.
China and Angola "intensifying negotiations on bilateral investment protection agreement"
In addition, he continued, there is another contract with a German company to supply all the electromechanical equipment, namely turbines, alternators, gates and related equipment.
"This system will leave the Center for the South, via the Huambo-Lubango link and, later, Lubango-Cahama and Cahama-Ondjiva," said the minister, adding that, for the East direction, the line will focus on Malanje-Xamuteba-Saurimo, with the integration of the three provinces of the East.
As part of this strategy, the connection to Menongue via Huambo will also be guaranteed.
"With this integration of the other provinces, we will, naturally, have the possibility of exploring this great potential that has already been built with Laúca, with Cambambe and the photovoltaic parks that we are building," he clarified.
The completion of works on the Caculo Cabaça dam will significantly reduce the deficit in electricity consumption in Angola by 66 per cent, generating power of 5,700 megawatts.
Other articles
Angola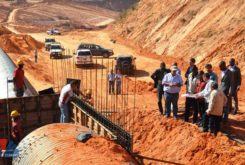 31 May 2023
African Development Bank to manage in Angola USD 50 million credit facility provided by China
Angola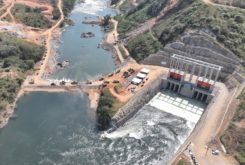 25 May 2023
Angola's 'Three Gorges' Hydro Dam Begins Main Construction Phase