The presence of various minerals listed as "critical" by the European Commission has been identified at the Angolan rare earths site of Coola, according to mining company Pensana, that partners in the project with China Great Wall Industry Corporation.
A statement from the company adds that initial results from the Coola project, north of the main site (Longonjo), "potentially complement the future production of magnet metal materials from Longonjo", having revealed its prospectivity for "a range of commodities listed as critical by the European Commission".
According to Chief Operating Officer Dave Hammond "the early reconnaissance results are a great start, confirming the Coola complex as a fertile mineralised system prospective for a suite of key strategic 'new technology' metals".
"The presence of substantial outcrops of fluorspar, which may have direct economic potential, is a positive indicator for technology metals within the geological system" and "exploration programmes are in progress on two other prospective alkaline – carbonatite geological systems" and other formations, Hammond added.
In June, the Angolan Sovereign Wealth Fund, FSDEA, invested a further A$7.25 million (USD 5 million) in Pensana Rare Earths, allowing for the start of exploration on the Coola Project and to provide general working capital for the project.
Other articles
Angola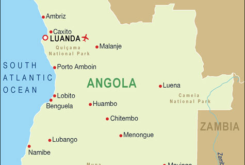 21 June 2021
China National Aero-Technology Corporation in USD 85 million Angola Deal