The Chinese ambassador to Angola, Gong Tao, extended an invitation to Angola to participate in the 2nd China-Africa Economic and Trade Exhibition and in the 4th China International Import Exhibition.
The invitation from China, according to the Chinese diplomat, will allow the country to take advantage of existing platforms to expand the export of national products to the Asian market.
The Chinese market is open to Angolan products, said Gong Tao, who further stated that the goal is to promote the export of non-oil goods to its market.
Changsha to Host China-Africa Economic and Trade Expo in September
"The last 40 years of China's reform and opening up have provided the world with a rich experience", Gong Tao said, quoted by State newspaper Jornal de Angola.
The diplomat pointed at the Belt and Route initiative as an example of China´s "sharing of the fruits of development and opportunities with the world".
Other articles
Angola
09 December 2021
China-Africa trade in goods rises 27.4%
Angola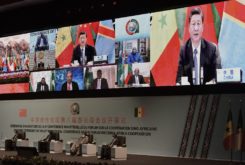 07 December 2021
FOCAC Dakar Action Plan "more detailed and wide-reaching" than previous ones