The Export-Import Bank of the United States (EXIM) will finance both the onshore and offshore facilities of an integrated liquefied natural gas (LNG) project located on the Afungi Peninsula in northern Mozambique, adding USD 1.8 billion to USD 5 billion previously pledged. The additional financing aims to push China and Russia financing aside, and generate business for US companies.
EXIM´s Board of Directors already approved the additional financing, according to a statement released on 15 May. EXIM President and Chairman Kimberly A. Reed adds that "private financing was not available for this project given its size, complexity, and risk—necessitating support from EXIM".
"We were told that China and Russia were slated to finance this deal before our EXIM board quorum was restored by the U.S. Senate one year ago. This is a great example of how a revitalized EXIM, thanks to President Trump's leadership and bipartisan support from Congress, can help ensure the use of 'Made in the U.S.A.' products and services, without ceding ground to countries like China and Russia", adds Reed.
In September 2019, the board of directors of EXIM authorized a direct loan of up to USD 5 billion to support the export of U.S. goods and services for the development and construction of an integrated liquefied natural gas (LNG) project located on the Afungi Peninsula in northern Mozambique.
The latest board action amends the original scope of EXIM's financing of the project from exclusively the onshore portion of the LNG plant and related facilities to also allocate an estimated $1.8 billion of the estimated total of $4.7 billion (decreased from the original $5 billion) to support the project's offshore production.
"As a result, the transaction now will support an increased number—16,700—of estimated American jobs over the five-year construction period", the statement adds.
The lead sponsor and operator of the project is Total S.A., a multinational oil-and-gas company that is one of the world's largest developers of LNG projects.
As part of EXIM's 2019 reauthorization, the US Congress directed EXIM to establish the "Program on China and Transformational Exports." The Program's purpose is to advance the United States' comparative leadership in the world with respect to China and strengthen America's competitiveness through EXIM's support of transformational U.S. exports.
"The transaction supports the Trump Administration's Prosper Africa Initiative, a whole-of-government economic effort to substantially increase two-way trade and investment between the United States and Africa", says EXIM.
Launched in December 2018, Prosper Africa brings together the resources of more than 15 U.S. government agencies, including EXIM, to support doing business in Africa for US companies.
EXIM is an independent federal agency that promotes and supports American jobs by providing competitive and necessary export credit to support sales of U.S. goods and services to international buyers.
Other articles
Cabo Verde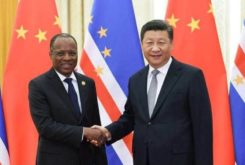 25 January 2021
Cabo Verde Wants Chinese Support to Develop Health Tourism
China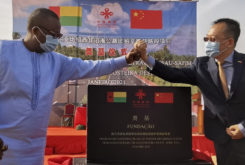 25 January 2021
China-Financed Highway in Bissau to be Completed in 2023