A new operator is expected to take control of one of Mozambique's biggest gas projects, after the board of Anadarko Petroleum decided to accept a takeover bid of US$56 billion from Occidental Petroleum. It had been expected that Chevron would win the bidding war until Occidental submitted its higher offer. In order to reduce its debt, Occidental plans to sell assets worth US$10-15 billion and has already struck a deal to sell its African interests, including its equity in Mozambican projects, to Total of France for US$8.8 billion.
Baring the collapse of the Occidental-Anadarko agreement, it is almost certain that Total will take over as operator of the Mozambique LNG scheme. Occidental submitted a cash plus shares offer, at US$76 a share, and has already secured financing for the 80% cash element of the offer. Investor sentiment seemed to be against the deal, as Occidental's shares fell 6% on the day it was announced – 9 May – to their lowest level for a decade, as many analysts felt that Occidental was overpaying for the acquisition.
Chevron's decision not to submit a higher counter offer certainly suggests that it believes so. The U.S. major had looked nailed on to take over Anadarko, attracted in particular by its interests in U.S. shale projects, but also by its Gulf of Mexico upstream assets and LNG equity shares. Chevron had also seemed keen to keep the Mozambican assets rather than sell them on.
However, it was not prepared to increase the US$48 billion offer that it had already agreed with Anadarko in April, despite the fact that its far greater size would have made it more capable of absorbing the debt than the eventual winner. Chevron is currently four times bigger than Occidental and the latter has been reported to be a takeover target itself over the past couple of years.
Anadarko had to pay Chevron US$1 billion to walk away from its takeover agreement and accept the Occidental offer. Chevron's chairman and chief executive Michael Wirth commented: "Winning in any environment doesn't mean winning at any cost. Cost and capital discipline always matter." The main motivation for the deal lies outside Africa, as Anadarko's 600,000 acres will make Occidental the biggest producer in the Permian Basin –the heart of the U.S. unconventional oil and gas industry – overtaking Chevron in the process.
The Total deal
It is no surprise that Occidental is being forced to offload some of Anadarko's assets as it is seeking to swallow a company that is only a little smaller than itself. Credit ratings agency Moody's said that the purchase would increase Occidental's debt by US$40 billion. The Total deal, plus an offer from Warren Buffett's Berkshire Hathaway to invest US$10 billion in Occidental, helped finance the deal.
The acquisition would turn Total into the fourth biggest LNG producer in the world after Qatargas, Shell and Malaysian firm Petronas. The French firm is keen to build on its strong position and the wider growth in the LNG industry. A string of big LNG projects are being developed around the world, particularly in the U.S. and Australia but also in Russia and elsewhere. It already has a lot of experience with the kind of deepwater development needed in Mozambique's Rovuma Basin.
Total has made US$20 billion in acquisitions over the past five years, including the US$7.5 billion purchase of Maersk's oil and gas operations in 2017, under the leadership of chief executive Patrick Pouyanne. The strategy has seen the scope of the firm's operations grow rapidly but has also driven up debt. The purchase of Anadarko's African assets will be its biggest takeover since the acquisition of Elf – initially as TotalFinaElf – in 2000. Already heavily involved in Francophone Africa, Total is rapidly expanding into other parts of the continent. Apart from Mozambique, the purchase of Anadarko's African operations will bring assets in Ghana, South Africa and Algeria.
If the deals proceed as planned, Total will become the new operator of Rovuma Area 1. Anadarko currently operates the block with a 26.5% stake, while the remaining equity is held by Mozambique's state owned Empresa Nacional de Hidrocarbonetos (15%), Mitsui (20%), ONGC Videsh (10%), Beas Rovuma Energy Mozambique (10%), Bharat PetroResources (10%), and PTT Exploration & Production of Thailand (8.5%). Area 1 already has proven reserves of 75 trillion cubic feet, including on the Golfinho and Atum fields, and there is still potential for further discoveries.
Gas from the block will be piped onshore to the Mozambique LNG side of the Afungi LNG project in Palma district in the far north of Mozambique, on a site to be jointly developed with an Eni-led consortium. Mozambique LNG will have two LNG trains – or production lines – in the first instance, each with production capacity of 6.44 million tonnes/year. Total project construction costs are estimated at US$25 billion.
Final investment decision
The day before Anadarko announced its agreement with Occidental, the company revealed that the final investment decision (FDI) on the Mozambique LNG project would be taken on 18 June, suggesting that the two announcements must be linked. Walker said: "With commitments for financing in place, off-take secured, and all other issues under negotiation successfully addressed, we are excited to take the next step with the expected announcement of a final investment decision for the Mozambique LNG project on 18 June."
The project looked almost certain to proceed with or without a sale and change of ownership, as the consortium had already struck a number of sales and purchase agreements (SPAs) with customers. LNG developers usually aim to secure long term SPAs for the lion's share of their proposed production capacity before taking the FDI, confident in the knowledge that they will be able to sell any remaining capacity on the spot market.
Three SPAs were concluded in quick succession in February. Firstly, Shell International Trading Middle East signed up for 2 million tonnes/year over 13 years. Then Bharat Gas Resources, a subsidiary of consortium member Bharat PetroResources, signed an SPA for 1 million tonnes/year over 15 years. Anadarko executive vice president, international, deepwater & exploration, Mitch Ingram, said: "In addition to BPCL being an upstream equity co-venturer in the Mozambique LNG project, we are also pleased to have them as one of our foundation customers." Companies that conclude long term purchase agreements often take equity shares in LNG projects.
Finally, Indonesia's Pertamina agreed a 20 year deal for 1 million tonnes/year. Indonesia has traditionally been an important LNG producer but Anadarko expects it to become a growing importer over the next few years. Ingram said: "With demand for LNG expected to grow worldwide in the middle of the next decade, Shell's strong global reputation in LNG, combined with Mozambique LNG's significant resource and favourable geographic location, create a unique opportunity to provide customers with a long term, reliable supply of clean energy."
Thailand's PTT, which is a shareholder in the project, has concluded the biggest SPA, for 2.6 million tonnes/year, while France's EDF has agreed to take another 1.2 million tonnes/year and Tohoku Electric of Japan 280,000 tonnes/year. In February, the UK's Centrica and Japan's Tokyo Gas agreed a co-purchasing SPA for 2.6 million tonnes/year, replacing the less concrete heads of agreement they signed in June. The co-purchasing approach allows them to decide between themselves how much to take over any given period. The Pertamina deal took the total contracted volume on Mozambique LNG to 9.5 million tonnes/year, which is likely to be sufficient to trigger the FDI. The first two trains are scheduled for completion in 2023-24 and further trains are possible but would require another round of supply contracts.
Work resumes
Macauhub reported on 8 May that Anadarko had resumed its activities at the LNG plant site in Cabo Delgado province. Work on the project was suspended as a result of attacks by Islamist militants on contractors, which left one man dead, but was restarted after Anadarko chief executive Al Walker received security assurances from President Filipe Nyusi. He revealed that they had resumed work as "the Mozambican government has guaranteed us security for the resumption of our activities". The two men are also believed to have discussed the timing of the FDI at the meeting.
"Mozambique LNG is among the most significant projects that our company or any other has undertaken, given the scale of the project, size of the resource and the potential long-term transformational benefits it represents for Mozambique. We are grateful for the continued support of the people and government of Mozambique, our co-venturers, and the thousands of men and women working in the Cabo Delgado region to develop this exciting project", said Walker.
President Nyusi added: "We expect 18 June will become an historic day in Mozambique as we announce that [the project] is ready to advance to the next stage." He said that the LNG scheme would be transformational for his country. The Eni-led project, on which ExxonMobil is to take the lead on the LNG plant, will add another 15.2 million tonnes/year to the country's production capacity, while a separate Eni scheme, Coral South, will contribute 3.4 million tonnes/year from what will be one of the world's first floating LNG (FLNG) projects.
Other articles
Angola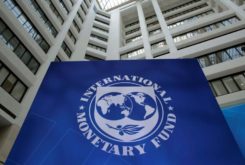 11 April 2021
IMF Improves Forecasts for Cabo Verde and Brazil, With High Ucertainty
China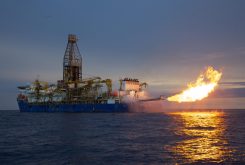 01 April 2021
Eni and Zhejiang Energy to Collaborate in Gas and LNG in China and Abroad