The new Tibar Port in Timor-Leste, whose construction is in charge of China Harbor Engineering Company, has received six gantry cranes for unloading containers, manufactured by Shanghai Zhenhua Heavy Industries.
With a total cost of USD 23 million, the cranes arrived last week at the Port of Tibar Bay pier, as the construction enters its final stages. According to the management company, two will be installed on the quay – for unloading and loading ships – and the other four on the storage – for handling containers.
The two quayside gantry cranes each weigh approximately 1,500 tons, with a 50-meter boom and the capacity to lift 63 tons of cargo. Both can handle two 20-foot containers at the same time and have the capacity to load and unload 90,000 containers per year, or almost 250 per day, much more than the number of containers currently arriving in the country.
Four electric park gantry cranes were also delivered for handling containers within the PBT. The Port has also received two tugboats, the VB FADO and VK LIKURAI, made in Vietnam.
The complex unloading operation was witnessed, among others, by the Timorese Prime Minister, Taur Matan Ruak.
Additional equipment is set to arrive this week, including a mobile harbor crane for unloading bulk cargo and 10 tractors for handling containers within the port.
The project suffered some delays, largely caused by restrictions imposed due to the covid-19 pandemic, although by the end of April 80% of the construction had already been completed.
Overall progress, including construction, equipment, personnel mobilization and the port's computer operating system, was 75% at the end of last month, with construction expected to end in November this year, when full operations are set to begin.
Around 1,000 workers currently work in the construction of the Port, of which around 600 are Timorese.
Other articles
China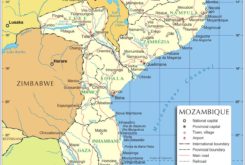 07 December 2022
Mozambique graphite attracts Chinese companies
Brazil
05 December 2022
Brazil Exports to China Jump 35.6% and lead to record trade surplus