The Portuguese-speaking countries (PSC) are well-placed to make great economic strides as participants in China's new and promising Belt and Road Initiative.

Chinese authorities have made clear that the inclusion of PSC in the Belt and Road Initiative is possible. These countries have a lot to gain from the extension by China of the original geographical scope of the Silk Road Economic Belt and the 21st Century Maritime Silk Road Initiatives.

Interest has been growing more particularly with Portugal and Cabo Verde, which are closer to the original routes, and which are also strategically important countries with close ties to Beijing. Timor-Leste and Brazil were represented at a high level meeting  during the May 2017 One Belt, One Road Summit in Beijing. Other PSC also stand to benefit, either by inclusion in specific projects connected to the strategies, or through connection to regional "hotspots", with new infrastructure.

Considering the amount of financial resources made available for the Belt and Road Initiative, a significant boost in trade is expected, particularly on the African continent.

In fact, PSC share a set of characteristics that make them particularly well-placed to benefit from the strategy.

PSC fare well compared to their regional partners in terms of infrastructure. All have international airports and none are landlocked. All have, or will soon have, deep water ports. In São Tomé and Príncipe, China Road and Bridge Corporation (CRBC) is preparing to start construction on a new seaport, which the government wants to turn into a centre for regional transshipment.

In Guinea-Bissau, China Machinery Engineering Corporation (CMEC) signed an agreement with the government in 2016 to undertake the construction of similar infrastructure in Buba (south of the capital, Bissau), as well as a new international airport.

PSC Have Strategic Value

China's trade with PSC has grown quickly in the past decade, almost ten-fold as of the end of 2015. Bilateral trade amounted to US$11 billion in 2003, and rose to US$98 billion in 2015. That came even as commodity prices slumped. Additionally, Chinese companies have made a variety of investments in PSC. More than 400 Chinese companies had invested a total of US$6.3 billion by 2015.
More than 400 Chinese companies have invested a total of US$6.3 billion in Portuguese-speaking countries by 2015.

China has also approved loans worth more than RMB 6 billion, with favourable terms for PSC, since the forum was set up in 2003. In addition to Maputo and Luanda, another good example of Chinese investment is Praia, where the local government is striving to attract Chinese manufacturers.

An investment hotspot for the authorities is the renewable energies sector, and in particular CERMI (Centro de Energias Renováveis e Manutenção Industrial), a newly-built centre for training in renewable energies just outside Praia, which is equipped with new generation solar panels. The centre trains technicians and experts from Guinea-Bissau and other countries in the West African region, and it is already cooperating with a Chinese electrical equipment provider. However, Cabo Verde has a bigger vision: investments in solar or wind parks, which the country has a dire need of.

Just outside CERMI is the future campus of Cabo Verde University, also being built with Chinese co-operation. Huawei signed an agreement in April with NOSI (Núcleo Operacional da Sociedade de Informação), the government´s IT unit. The project aims to develop and launch e-government end-to-end solutions in education, health, social security, municipalities and land, as well as public records.

The PSC group has great strategic value. It includes Brazil, the biggest South American economy, which has China as its main trading partner; Timor-Leste, a candidate for membership in ASEAN; Portugal, a maritime country, part of the EU market; Angola, a West African country that has become a key oil supplier for China and is a member of the Southern African Development Community; Mozambique, an East African country that will emerge in a few years as a global LNG player and logistics hub; and Cabo Verde and Guinea-Bissau, two countries that belong to the Economic Community of West African States (ECOWAS).

The most recent addition to the Forum on China-Africa Co-operation (FOCAC) and the Forum Macao is São Tomé and Príncipe, situated at the heart of the strategic Gulf of Guinea, less than two hours away from some of the continent´s major cities, such as Lagos, Accra and Luanda.

In addition to its membership in ECOWAS, Cabo Verde borders the European Union – the Portuguese islands of Madeira and the Spanish archipelago of Canarias – and also has preferential access to the United States market.

At the recent business forum in Praia, Jin Guangze, managing director of the China-Portuguese-speaking countries Co-operation and Development Fund Management Company, emphasised that Cabo Verde "has a strategic position," pointing to the potential of areas such as the Blue Economy and renewable energy, in which China has "great skills."

In Portugal, on the island of Madeira, authorities are also looking at the Belt and Road Initiative as an opportunity to attract Chinese investment and boost exports, using its geographic location and free trade zone. On 24 March 2017, an agreement was signed between the Madeiran executive and the Friends of the New Silk Road Association in order to establish joint initiatives to attract investments.

Considering the privileged location of Madeira, the agreement aims at its possible inclusion in the Belt and Road Initiative. The Madeira Free Trade Zone has a parallel in the Chinese Special Economic Zones. It aims to promote investment and international financial services, industrial and technological parks, technological development, and tourism. Madeira wants to position itself for the Blue Economy, given the vast territorial waters under its jurisdiction, to develop energy resources, aquaculture, tourism and ports.

Great tourism potential

PSC group includes countries where tourism is already a major industry – Portugal, Cabo Verde and Brazil – and others where it is gaining importance – São Tomé and Príncipe and Mozambique. Then, there are those that are eager to bring in more tourists – Timor-Leste, Angola and Guinea-Bissau – as a way to diversify their economies.

For African countries, tourism offers important potential for the diversification of their economic base, in addition to the extraction of natural resources. Countries such as Angola have been prioritising the development of this sector, important for the increase of revenues and foreign exchange.

According to the WTTC, India will be the fastest-growing destination for leisure travel, followed by Angola, Uganda, Brunei, Thailand, China, Burma, Oman, Mozambique and Vietnam.

In the Travel and Tourism Competitiveness Report 2017, Portugal is the best among PSC to visit, in 14th place globally, followed by Brazil, at 27th. Chinese tourism has been growing steadily in both countries. Cabo Verde has risen to 83rd, with higher scores on the "air transport infrastructure" criteria (43rd overall, with the 2nd highest density of airports in relation to the size of the population), "environmental sustainability "(44th), and" price competitiveness "(49th). The Cabo Verdean government hopes to join the ranks of the 30 most competitive countries in the world in terms of tourism, and among the top five in Africa by 2021.

Mozambique is already among the continent´s main destinations; it has been improving greatly its performance since 2015 in the WTTC rankings.
Other articles
Angola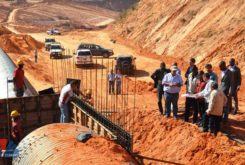 31 May 2023
African Development Bank to manage in Angola USD 50 million credit facility provided by China