An investment of USD 20 billion, and with Japanese, Thai and Indian energy companies as shareholders, the Mozambique Natural Gas Area 1 project (Mozambique LNG) is attracting dozens of Asian suppliers of goods and services.
One of the most recent is South Korean Daeah Engineering & Construction, based in Seoul, which will be one of the main partners in the construction of natural gas infrastructure in Afungi and Pemba, where the main operator of Mozambique LNG, Total, will locate the center operations for Cabo Delgado, Africa Monitor Intelligence reported.
Daeah's branches in Mozambique – Daeah Engineering & Construction Mozambique and E & C Mozambique, were recently created and will have as partners Daeah E & C and Taijoo Moon, representative of the company, which owns about 10% of the capital, according to the same source.
The South Korean national based in Maputo founded E&C Mozambique with Jung Pil Kim, his compatriot, in October 2020. According to Africa Monitor, the use of both companies by Daeah headquarters, with the same civil construction and logistical capacity, brings tax benefits and enhances business opportunities.
In addition to opening up markets for its companies and facilitating access through visa facilitation agreements, Seoul is interested in countering North Korea's traditional influence in Mozambique and its strategies to circumvent sanctions, where Maputo will have played a role in the recent past.
The Asian players in the sector are strongly represented in the Area 1 consortium of Mozambican natural gas, which signed the final investment decision in June 2019 in the amount of USD 20 billion, of which 12.5% ​​(USD 2.5 billion) will be used to hire companies created or established locally.
It is also estimated that about. 40% of the employment will be of local content during the initial phase of the project, increasing to 3/4 in the development phase (c. 14 thousand). There are currently close to 6,500 Mozambican workers on the site.
Also according to Africa Monitor, the Area 1 consortium (Mozambique LNG), led by Total, will launch a series of tenders for contracting goods and services through subcontractors Alistair, Van Oord, Technip, Marine Services and the joint venture CCS, formed by Chiyoda, McDermot and Saipem.
CCS JV has as subcontractors IFS, SubTech, Renco, Dorce, WBHO and 2 Portuguese companies – Zagope and Gabriel Couto.
The Area 1 consortium also includes Mitsui Co., OVL (wholly owned subsidiary of the oil and natural gas company ONGC), Mozambican National Hydrocarbon Company (ENH), Bharat Petroleum Corporation, (India), PTT Exploration & Production (Thailand ) and Oil India Limited.
Led by Italian ENI, the Coral Sul FLNG project was also captured by a South Korean company, in this case the Samsung Heavy Industries shipyard, which is approaching the completion of the construction of a maritime platform that will leave for Mozambique this year to start the extraction of natural gas in the north of the country, becoming a pioneer the country´s LNG industry.
Currently under construction in South Korea, the unit is on schedule for departure to Mozambique in 2021 and start of gas production in 2022. Construction continues with integration and commissioning activities, according to the company.
Coral-Sul FLNG will be the first floating deep-water liquefaction platform in the world. With a capacity of 3.4 million tons of liquefied gas per year, it will be located off the coast of Mozambique and will put into production the considerable resources of the Coral gas field in Area 4 of the Rovuma Basin.
Photo: Coral Sul FLNG at Samsung Heavy Industries shipyard
Other articles
China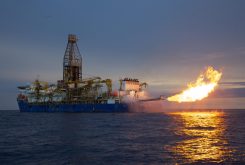 26 November 2021
Chinese Financing Could Replace Western One for Mozambique LNG Projects
Angola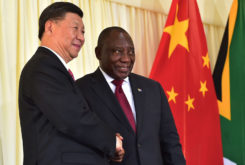 24 November 2021
E-Commerce and Health Care to Take Center Stage at FOCAC 2021