The SINOHIDRO-SEPCO1 consortium, with Chinese capital, will build a new electrical substation in Mozambique, part of a 142 kilometers transmission line to neighbouring Malawi.
The new Matambo Substation, in Manica province, to be built by SINOHIDRO-SEPCO1, should have a capacity of 400KV and the extension of the current 220KV substation is included, according to State electricity company Electricidade de Moçambique (EDM).
Sinohydro is a Chinese state-owned hydropower engineering and construction company while SEPCO1 is part of the Powerchina group, a Chinese state-owned company.
China Machinery Engineering Corp to Build Coal Power Plant in Mozambique
EDM also announced that the Mozambique-Malawi electricity interconnection line will be built by Lasern & Toubro Limited, from India.
The works entail the construction of 142 kilometers of a 400KV transmission line, starting from the new Matambo Substation, to the border with Malawi, in Zóbuè.
The USD 35 million project should be ready by the end of this year, allowing for the supply of energy to Malawi to begin in 2023.
Sinopec, CNOOC, CNPC and Petro China International bid for Mozambique oil and gas
On the Malawian side, the electricity interconnection project between the two countries was launched at the end of last year by the presidents of Mozambique, Filipe Nyusi, and Malawi, Lazarus Chakwera.
The energy to be supplied from the Cahora Bassa Hydroelectric Power Plant is believed to make a considerable contribution to making Malawi's development projects.
This is the second project of its kind that the country is carrying out, after the MOTRACO line, which interconnects Mozambique, Eswatini and South Africa. For Mozambique, the lines allow the export of electricity produced by the Cahora Bassa Hydroelectric Power Plant.
Other articles
Brazil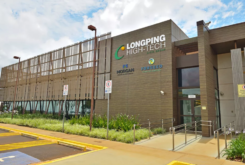 19 May 2022
Chinese seed company LongPing High-Tech investing USD 100 million to grow in Brazil