The Government of Mozambique announced the conclusion of a project to bring digital satellite television signal to 1,000 villages in the in the northern province of Cabo Delgado, which is estimated to benefit over 20,000 families.  Covering all the ten provinces and the capital city of Mozambique, the project is co-funded by China and implemented by the Chinese electronics and media company StarTimes.
The project is part of the resolutions of the Johannesburg Summit of the Forum on China-Africa Cooperation in 2015, in which the Chinese government pledged to provide satellite television access for 10,000 villages in Africa.
The announcement on Cabo Delgado was made by Minister of Transport and Communication Janfar Abdulai on Tuesday during a visit to the province, after reviewing the project.
"This project is included in the 100 days of governance and now it is totally concluded. Here, today we are reviewing how the beneficiaries feel with the project and we are able to testify that they are happy, they have direct access to information and we share their satisfaction", said the minister, quoted by Xinhua.
He said the project generated about 2,000 jobs in total and trained work force particularly young people to be in charge of the maintenance and provide assistance to the beneficiaries.
According to Africa Monitor Intelligence, StarTimes Software Technologies Company Ltd. won the tender opened in 2016 for a digital TV operator in Mozambique. The government awarded the contract for USD 156 million. The tender was launched by the Mozambican National Institute of Communications and aims to shift analogue radio broadcast to digital technology.
Startimes ST was considered by the Chinese Ministry of Culture as a key company for the export of Chinese cultural products to Africa. It is also the only Chinese company authorized by the Chinese Ministry of Commerce to integrate radio and television projects abroad. Startimes ST has very close relations with China EXIM Bank (Export-Import Bank), having negotiated a credit of USD 165 million in 2012, with the aim of expanding its operations in Africa. In 2014, it received a new credit worth USD 60 million, also according to Africa Monitor Intelligence.
The China-Africa Development Fund also owns part of the capital of Startimes ST, whose presence in Africa already reached 23 countries, having so far been responsible for the migration from analogue to digital in 12 African countries.
Other articles
China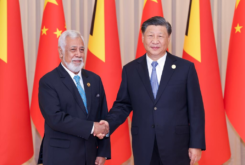 25 September 2023
China and Timor-Leste Elevate Bilateral Relations to Comprehensive Strategic Partnership
China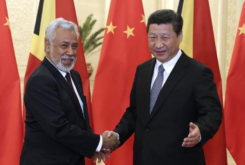 21 September 2023
Timorese Government Approves Agreements with China