Exports from Portugal's wine sector are estimated to have totalledEUR 930 million last year, up 8.6% compared to 2020, according to business consulting firm Informa D&B.
According to the firm, France, the United States and the United Kingdom are the main foreign markets, each with a share of more than 10% of Portugal's wine exports.
The sector's trade surplus increased to EUR 770 million, because, also in 2021, wine imports fell to EUR 163 million, 1.8% less than the previous year, Informa D&B added.
Informa D&B states that "the volume of wine production in the 2021-2022 campaign amounted to 7.3 million hectolitres, up 14.2% on the previous campaign, which had registered a drop of around 2%," with "the Douro/Porto and Lisbon regions being the most important (20% of the total volume each).
"After the upward trend recorded between 2017 and 2019, the number of companies active in the wine sector has fallen, standing at 1,373 in 2020 (-1.1%)," it adds, stressing that "employment in the sector also retreated in that year, to around 10,800 workers."
Small companies predominate in the sector, "with the average number of employees per company remaining at 7-8 people since 2014," it notes. "There is a clear concentration in the North, where around 43% of the total number of companies are based, followed by the Centre (31%) and Alentejo (14%)."
Other articles
China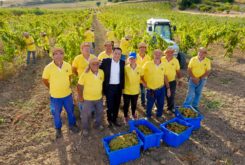 07 June 2023
"Green" Cooperation Brings Deputy Governor of Guangzhou Province to Portugal