Portugal´s three biggest telecoms will exclude Huawei technology from the core of 5G mobile phone networks, despite the fact that the Government has not banned the Chinese company from the infrastructure development.
NOS, Altice and Vodafone, the country´s major telecoms, confirmed this Thursday the decision not to select Huawei for the core 5G network, which handles assigning IP addresses to connected equipment, authentication and authorization processes for accessing the network, among other basic functions ensured by servers, gateways and routers.
Like several European countries, Portugal is preparing an auction for the 5G spectrum, amid intense diplomatic pressure from the US to ban Huawei from entering these new generation telecom networks.
According to a NOS spokesman, the company "will not use Huawei technologies on 5G networks" and will choose "the best partners" for this implementation.
"Vodafone announced that its core 5G network will not include Huawei in its different operations, so, of course, Vodafone Portugal is no exception," a spokeswoman for Vodafone Portugal told Reuters.
He added that Vodafone Portugal "has been working on preparing its 5G network with its preferred and historic partner Ericsson".
Altice Portugal CEO, Alexandre Fonseca, had already told reporters on March 5 that the company does "not have Huawei at the core of the network", and instead picked "other manufacturers".
Mobile 'core' networks carry greater surveillance risks as they incorporate more sophisticated software programs that process confidential information, such as customers' personal data.
Portugal´s Minister of Infrastructure, Pedro Nuno Santos, confirmed to Reuters that he had heard that Huawei would be left out, adding that the decision "has nothing to do with the options or impositions of the Portuguese Government, which, in this matter, is absolutely in line with European guidelines".
"A priori, we have no problems with any of the manufacturers," explained the minister, also saying that, according to the working group created by the Government to study the risks and cybersecurity issues related to 5G technology, there was no conclusion that pointed to problems with a particular manufacturer.
Portugal postponed the 5G spectrum auction to October for six months due to the coronavirus pandemic.
The minister said that "the Government is not interested in having a very high price in the 5G auction" because it wants operators to have the financial muscle to make "significant investments in strategic and critical infrastructures".
In the first phase, it aims to cover industrial zones, universities, schools, main roads, seaports with 5G and then cover the rest of the territory.
Other articles
Brazil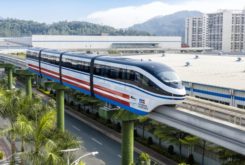 12 April 2021
China´s BYD Presents Brazil´s Bahia SkyRail