REN – Redes Energeticas Nacionais, SGPS S.A., whose main shareholder is China State Grid, has won an award from the European Commission for its electric charging solution.
The speed-E mobility solution, developed by REN to charge electric vehicles directly from Very High Voltage (MAT) lines, won a prize at the third edition of the PCI Energy Days, organized by the European Commission, according to the Lisbon-based company.
The solution won the "Best Practice of the Year" award in the "Technological Innovation and Systems Integration" category, awarded by the Renewables Grid Initiative (RGI).
Moody's Improves Outlook for Portugal's REN Owing to New 2021-24 Strategy
The jury selected the project for "bringing a significant contribution both to the reliability as for the decarbonisation of the transport sector – promoting and accelerating electrification", the company said.
The executive director of REN João Conceição said the award is "extremely important" as it "recognizes the company's existing culture of innovation in the face of the demanding challenges of transformations in the energy sector".
REN — Redes Energeticas Nacionais, SGPS S.A., headquartered in Lisbon, owns and operates under long-term concessions electricity and gas transmission grids as well as a gas distribution network in Portugal. It generated EUR470 million of EBITDA in 2020.
China State Grid owns 25% of REN, the largest shareholding in the Portuguese company.
Other articles
Angola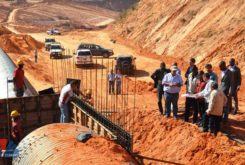 31 May 2023
African Development Bank to manage in Angola USD 50 million credit facility provided by China