The Office of the Prosecutor-General of Portugal is moving ahead with corruption charges against António Mexia, the CEO of EDP – Energias de Portugal, which has China Three Gorges as its main shareholder.
Also to face corruption charges is the CEO of EDP Renováveis, João Manso Neto. According to newspaper Observador, both executives are accused of four crimes of active corruption and one of economic participation in deal.
The intentions by the magistrates responsible for the investigation of the EDP case are revealed in a request to judge Carlos Alexandre asking for the reinforcement of coercion measures.
The case is in the final stage of investigation at the Central Department of Investigation and Criminal Action (DCIAP).
The two prosecutors in charge of the case are also reported to be preparing accusations against an executive board member of REN, João Conceição, for two crimes of passive corruption, Observador says. REN is owned by China State Grid.
This executive was part of the team of former Minister of Economy Manuel Pinho during the period in which decisions were taken regarding the extension of EDP dams concessions and the compensations contracts.
The prosecutor asked for Mexia and Manso Neto to be suspended from office, prevented from entering all company facilities and from contacting defendants and witnesses in the process.
The Prosecutor's Office upholds the request for suspension with the danger of disturbing the investigation and of continuing criminal activity, stating that the majority of EDP's witnesses have not given evidence in a "serene, objective and free manner".
According to Observador, the prosecutor´s office wants the three defendants to be prohibited from exercising management functions in public and private companies for a "period of not less than five years".
In particular, the ban relates to the exercise of functions in companies and funds subject to the supervision of the Securities Market Commission (CMVM) and in public companies or public service concessionaires.
About the suspension of functions of Mexia and Manso Neto from their current positions in the EDP group, the company responded in a statement considering the request "illegal" and said that it would have "no effect from the point of view of EDP management".
EDP, Portugal´s larget utility, recently payed  China Three Gorges (CTG) a fifth of its 2019 dividends, around EUR 150 million.
Photo: António Mexia (Impala)
Other articles
Brazil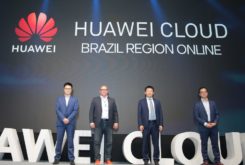 23 September 2020
Huawei´s Fortunes in Brazil 5G Auction Influenced by U.S. Election
Brazil
21 September 2020
China Offers Brazil "New Highland" of Scientific and Innovation Cooperation, Including 5G