The biggest showroom of Portuguese products in China has opened in Chengdu, the capital of Sichuan province, focusing on the agri-food sector and with special emphasis on wine.
The showroom, at the Chengdu Eurasia National Pavilions complex, will have an exhibition area as well as a cafeteria and a restaurant, where demonstration sessions of agri-food products will take place, according to Portugal´s trade agency (Aicep).
This multifunctional room in China´s fourth largest city in population density (pictured above), measuring approximately 200 m2, will allow the implementation of an annual agenda of events, such as commercial presentations, cultural and tourist promotion events, among other social events related to Portugal.
Portugal-China relations set "a great example" for China-Europe cooperation, ambassador says
The Portugal Pavilion will also have a tourist promotion kiosk, to work closely with Portuguese companies in attracting B2C and B2B customers, both in a tourist offer and MICE offer (Meetings, Incentives, Conferences, Exhibitions). The showroom will have a studio entirely dedicated to online commerce as well.
The showroom is the result of a Portuguese-Chinese partnership, which has an initial investment of EUR 700 thousand (60% of the capital is of Portuguese origin) and which foresees a phased investment of up to EUR 3 million.
The Chengdu Eurasia National Pavilions complex will host more than 30 National Pavilions, located close to the Chengdu International Railway Station, which is annually moving thousands of containers of goods to or from Europe and China.
In order to consolidate this location as a privileged space for imported products, the Chinese authorities actively encourage the pavilion management entities with benefits from the investment made in the showrooms by the various countries covered by the One Belt One Road strategy.
For Portugal, the strategy "is to create a diversified offer of products that are considered fundamental, in order to be able to respond to this gigantic market", Aicep says.
China is the world's largest online retailer, with over 443 million active shoppers and 42 million daily orders.
Other articles
Angola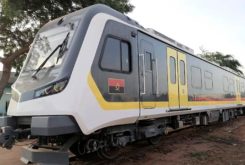 06 October 2022
China CRRC Corporation delivers three new trains to Angola