The fall in oil prices is set to counter the Angolan Government´s balancing of its budget. The Government projected a third consecutive surplus in 2020, but a revision of the budget is ongoing, and economists now point to deficit of at least 4% of GDP, along with a fall in foreign currency reserves.
According to preliminary data from the Ministry of Finance, in 2019, the Angolan State again posted a budget surplus, around AOA 0.6 trillion, about 1.8% of GDP. This is the 2nd consecutive year of a positive balance in the accounts, although lower than the 2.2% of GDP recorded in 2018.
According to economists from Angolan bank BFA, "the fall in oil prices will again put the accounts in the red in 2020": instead of a surplus around 1.2% of GDP predicted in the budget, "the impact of the crisis could cause a budget deficit between 4-5% of GDP".
In April, there was a historic drop in the international markets in the price of WTI, which reached USD -37. The drop occurred in the context of a shortage of storage space, causing WTI delivery contract holders in May to pay to get rid of them. On the Brent side, the commodity traded as low as 21 USD, but has since recovered somewhat.
According to National Bank (BNA) data, the current account showed a surplus of USD 5.1 billion (Bn) in 2019, down from USD 7.4 Bn recorded in the previous year. The fall was pticularly serious in the trade balance of goods, with the surplus declining by USD 4.3Bn, standing at USD 20.6Bn; the decrease was mainly due to a reduction of USD 6.0Bn (15.3% yoy) in crude oil exports.
On the other hand, imports of goods decreased by USD 1.7Bn (-10.6% yoy): in particular, imports of consumption goods fell sharply (-13.3% yoy). The drop in service imports was even larger, at USD 1.9Bn (-19.0% yoy), with the services balance posting the lowest deficit ever (USD -8.1Bn). The surplus is higher than expected economist at BFA, "a result of upward revisions of previous quarterly balances, and the absence of capital imports above normal in the last quarter of the year".
On the capital and financial account side, there was a deficit of USD 4.2Bn, thus resulting in a total surplus of USD 0.9bBn in the balance of payments balance, which was reflected in an increase in reserves in 2019.
"In 2020 , the fall in the price of oil will take the current account back to a significant deficit, dragging the balance of payments with it and causing another fall in reserves", says BFA. According to the Angolan central bank, Net International Reserves amounted to USD 10.9Bn in March, practically unchanged from February, around 6.3 months of imports.
Photo of Angola's National Bank | © SAPO Notícias
Other articles
Angola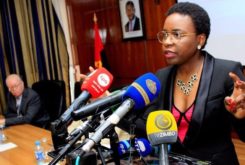 21 September 2020
Angola's Debt to China Estimated at USD 20.1 billion
Angola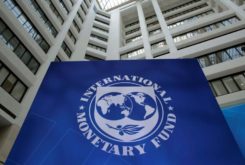 17 September 2020
Angola Gets Additional USD 765 million from IMF