Hainan, China's southernmost province, has established a new benchmark area to promote development of the China (Hainan) Pilot Free Trade Zone (FTZ), China Daily announced on Sunday. The new area – the Haikou Jiangdong New District of China (Hainan) Pilot Free Trade Zone – covers 298 square kilometers on the east coast of Haikou, the provincial capital. It will have two parts: a 106-sq-km ecological region boasting a key national wetland natural reserve, and 192 sq km that will serve both industrial and urban purposes.
On 13 April, while celebrating the 30th anniversary of Hainan being made a province and a special economic zone, President Xi Jinping unveiled plans to build it into a pilot free trade zone and gradually build a free trade port.
"We will make efforts to turn the new district into a concentrated area to showcase the construction of the China (Hainan) Pilot Free Trade Zone, and make it an innovative zone for comprehensively deepening reform and opening-up, an experience area for international tourism and consumption and a demonstration of Hainan as a zone offering services," Fu Xuanchao, a member of the new district planning and leadership group and director of the Hainan Provincial Development and Reform Commission, told a news conference in Haikou.
Located in the core of the northern Hainan comprehensive economic integration circle that links the cities of Haikou, Chengmai and Wenchang – which has China's only tropical and coastal space launch center – the Jiangdong New District has a robust ecology with rivers, lakes and wetlands. It also enjoys the convenience of Meilan International Airport and sufficient land resources to support integrated, high-level planning and development.
According to the paper, Fu said that "The new district will be an international trading venue for energy, shipping, bulk commodities, property rights, stock equities and carbon credits." He said the new district will host the regional headquarters of international and domestic industrial conglomerates and groups, scientific research institutions and service organisations, and also be built into an international financial trade center and international education base.
According to the provincial plan, the new district will become functional in three years and basically formed in seven years. It will be an open, inclusive, world-class new city built in line with world vision, international standards and featuring Hainan characteristics.
"We will build it into a new area where the ecological systems enjoy the highest level of protection," Fu said quoted by China Daily. Fu also said that Jiangdong will be an important window to showcase China and create an urban development solution for the world.
Haikou Mayor Ding Hui said Hainan was officially launching the conceptual planning for the new district by calling for expressions of interest. He said outstanding planning and designing institutions could hand in applications by 22 June, after which their qualifications would be examined.
Hainan has recently issued a large number of measures, such as investment promotion and talent invitation campaigns, aimed at building the China (Hainan) Pilot Free Trade Zone and free trade port with Chinese characteristics and exploring a new, open economic system.
Other articles
Angola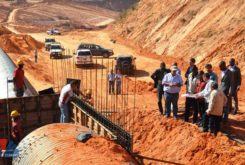 31 May 2023
African Development Bank to manage in Angola USD 50 million credit facility provided by China