The first of eleven oil platforms to be installed by Brazilian state company Petrobras until 2027 in the pre-salt area arrived in Brazil and will be deployed to the Mero field, co-owned by China's CNPC and CNOC.
The Sepetiba platform ship has a daily capacity to produce up to 180,000 barrels of oil and 12 million cubic meters of natural gas, according to a statement released by Brazilian the state oil company.
The new Floating Unit for Production, Storage and Transfer (FPSO) will operate in the deep waters of the Santos basin on the coast of the state of Sao Paulo, where it is expected to start operations by the end of this year.
FPSO gears up for production in Brazilian oil field co-owned by China's CNPC and CNOC
Mero is Petrobras's third largest oil field in situ and the Sepetiba FPSO will be the second platform to operate there.
According to Petrobras, the plan is that a total of four floating stations will operate in this field and together will have the capacity to produce up to 720,000 barrels of oil per day.
The Mero field is currently operated by Petrobras (38.6%), which awarded it in a consortium in partnership with Anglo-Dutch Shell (19.3%), French TotalEnergies (19.3%), CNPC (9.65%) and CNOOC (9,65%).
Brazil-bound FPSO Enters Final Construction Stages at Cosco Changxing Shipyard in Shanghai
The giant pre-salt reserves ould turn Brazil into one of the world's largest crude exporters, and Petrobras plans to install 11 new platforms in the Santos basin by 2027, when production in this area is expected to reach 2.4 million barrels per day of oil.
Six of them will be in the Buzios field, the world's largest deep-water field and the most prolific in Brazil, with a cumulative production of 1 billion barrels of oil equivalent in just five years of operation until June.
Three more will go to Mero – including that of Sepetiba – and another two to the camps of Jubarte and Albacora, respectively.
Other articles
Brazil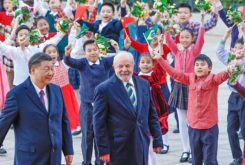 26 September 2023
China To Deepen Practical Cooperation With Brazil in All Areas
Brazil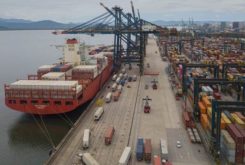 19 September 2023
China Fuels Record Brazilian Agricultural Exports