Brazil and China are developing a satellite that will be able to monitor deforestation in the Amazon regardless of whether the region is covered in clouds, the Brazilian government announced.
The official announcement will be made during the state visit that Brazilian President Luiz Inácio Lula da Silva will make to China between March 26 and 31, according to the Asia and Pacific Secretary of the Brazilian Foreign Ministry, Eduardo Paes Saboia.
CBERS-6 will be "the first satellite developed between the two countries and will allow monitoring the jungle with clouds," Saboia said at a press conference called to explain details about Lula's trip to Beijing.
Brazil wants to start building a new satellite with China in 6 months
Currently, Brazil measures deforestation in the Amazon by two satellite systems, called Deter and Prodes, but neither of them are capable of detecting logging and fires in areas covered by clouds, which is very common, especially during the rainy season.
In 2022, the Brazilian Amazon lost 10,278 square kilometers of vegetation cover, a level never seen before since the measurement was carried out in Brazil with the Deter system, whose data is published monthly.
President Lula, who took office on January 1, has set out to end deforestation in the Amazon, which skyrocketed in the four years of his predecessor, the far-right Jair Bolsonaro, who eliminated controls and promoted economic development in the region.
Other articles
Brazil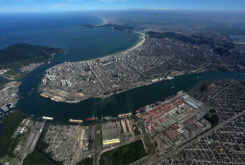 24 May 2023
Artificial intelligence and machine learning resolving China-Brazil "logistics bottlenecks"